The domestic market can reach 40 billion yuan
It is reported that the biopharmaceutical company "Genxi Bio" recently announced the completion of a $100 million Series C financing. This round of financing was led by Wellington Management Company, OrbiMed and Morningside Ventures. New investors participating in this round also include Vivo Capital. Existing investors Temasek Holdings, Lilly Asia Ventures, OrbiMed and King Star Med LP also participated.
Compared with competing products in the industry, Genxi Bio is characterized by focusing on the development of CAR-T cell products and overcoming the common technical problems of autologous and allogeneic CAR-T cell products faced by the industry.
This technology can express specific receptors and target and recognize specific tumor cells. Its advantages are small side effects and obvious therapeutic effects. In particular, the current technology is relatively leading in the treatment of hematomas, and it is gradually becoming the development direction of tumor treatment in the future , Known as the fourth largest tumor treatment technique after surgery, radiotherapy and chemotherapy. According to the forecast of Zhiyan Consulting, China's CAR-T market can reach 40 billion yuan.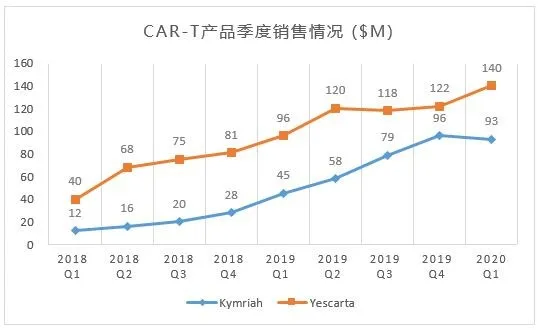 Quarterly sales of CAR-T products in the global market
Data show that Genxi Bio's advantage lies in the independent research and development of FasTCAR and TruUCAR technology platforms. Based on the FasTCAR platform technology, Genxi Biotech has developed autologous CAR-T cell products with younger phenotypes, less exhaustion, and better killing. The T cells are produced in 22-36 hours and can be harvested the next day. Based on the TruUCAR platform technology, Genxi Biotech has developed a universal CAR-T product derived from T cells from healthy donors that do not require HLA matching. In addition, because its clinical use does not require bridging bone marrow stem cell transplantation, the "ready-to-use" allogeneic CAR-T cell product developed by the company based on the TruUCAR platform will be able to get lower cost and higher convenience.

Picture from the official website of Genxi Bio
From the perspective of R&D progress, Genxi Biologics is already in the global clinical stage: two phase I clinical trials are underway, including the GC012F autologous cell candidate product developed under the FasTCAR platform for the treatment of relapsed or refractory multiple myeloma (r/r MM); Based on the GC027 allogeneic candidate product developed under the TruUCAR platform, it is used to treat relapsed or refractory T-cell acute lymphoblastic leukemia (r/r T-ALL).

In addition, Genxi's first product candidate, GC007g derived from T cells from healthy donors, is used to treat B-cell acute lymphoblastic leukemia (B-ALL), and has entered the Phase I clinical trial of a new IND drug in China.