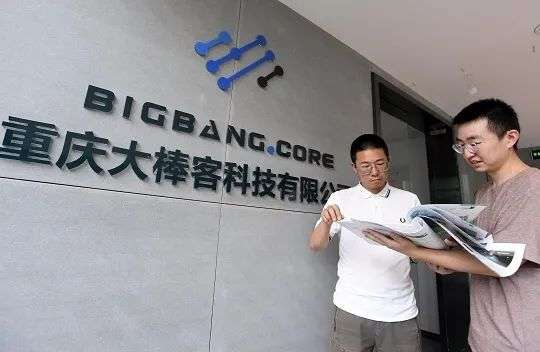 Chongqing Dabangke Technology Co., Ltd.
A few days ago, the Chongqing Economic Development Zone Management Committee signed a project investment agreement with Dabangke Technology Co., Ltd. ("Dabangke" for short), and the company's China headquarters officially settled in Chongqing Economic Development Zone. In the future, relying on the R&D and integration capabilities of the underlying technology of Dabangke's blockchain, the development of industrial clusters in the economic development zone will add innovation momentum.
Chongqing Economic and Technological Development Zone is the earliest national economic and technological development zone established in western China. In recent years, taking reform as an opportunity, innovation as a guide, and openness as a driving force, we have continuously promoted high-quality and high-efficiency development. At present, based on building an influential and competitive Shanshui humanistic urban area and a smart and innovative eco-city, Chongqing Economic and Technological Development Zone focuses on opening up the industrial chain, financial chain, and ecological chain in terms of investment promotion, so as to gather strength and energy for sustained and rapid development. , Jucai.
The Economic Development Zone Investment Group closely focuses on this development direction, actively investigates and investigates, visits on the spot, through preliminary negotiation, expert consultation, and in-depth communication, the underlying technology of Dabangke blockchain is in the leading position in the industry, and this technology will gradually It is widely used in various industries in the real economy and has great potential for development. It will help the Economic Development Zone build an influential industrial Internet demonstration base in China.
It is reported that Dabangke is a blockchain company that provides IoT solutions, and has a technical background in industrial IoT, blockchain, microelectronics, artificial intelligence, and cloud computing. The company uses blockchain to empower the Internet of Things, which mainly involves data security and equipment security. At present, energy companies, industrial production, real estate properties, smart homes, smart city construction equipment, agricultural production and other fields have been empowered.
As a leader in the industry, Dabangke has advanced technology and self-created ultra-high-performance blockchain underlying technology. Its expansion performance ranks first in the global peers. It can achieve tens of millions of IoT devices on the chain at the same time and achieve the second level Cross-chain transactions. In addition, the security chip based on blockchain technology is currently the only chip in the world that has achieved mass production. The blockchain camera developed by the company uses industrial technology to upload the scanned and photographed images to the chain for the first time, lock its credibility, and ensure the security and legal effectiveness of the user's electronic evidence. The blockchain's non-tamperable feature is also Let the content of the evidence have permanent reliability. This technology can save a lot of inspection costs for partners.
According to the agreement, Dabangke will build a blockchain industry development incubation platform within the economic development zone and gradually incubate enterprises of the Internet of Things, blockchain, artificial intelligence, and microelectronics. In the next 5 years, it is estimated that more than 14 enterprises will be incubated and cultivated. Dabangke will also cooperate with China Telecom Chongqing Branch, Southwest University and other units to build a municipal key laboratory in the blockchain field and set up a postdoctoral workstation. It is planned to invest 10 million yuan in scientific research funds every year within 5 years of settlement.
The introduction of the Big Bangke China Headquarters project in Chongqing Economic Development Zone is undoubtedly another forward-looking layout. It will not only bring the leading technology of blockchain and "enable" the development of enterprises in the region, but will also bring together more leading enterprises of various industries to settle in the economic development zone, forming an industrial cluster development.