New forces in car-making have risen again. NIO hit a new high, and the ideal is approaching a new high. Xiaopeng rose by more than 7%; Goldman Sachs: NetEase's Q3 revenue is expected to increase by 25% year-on-year, and the target price is raised to US$107; New Oriental plans to go to Hong Kong for a second listing to raise funds About 10.1 billion Hong Kong dollars.
On Tuesday, three major indexes higher across the board, channel refers to up over 550 points or 2.06%, the Nasdaq closed up 1.85%, S & P 500 closed up 1.78%.
Most Chinese concept stocks closed up, with 176 Chinese concept stocks rising and 97 falling. Popular Chinese concept stocks were mixed. Alibaba fell more than 8%, while Pinduoduo and Weilai both rose more than 6%.
The specific performance is as follows:
Among the well-known Chinese concept stocks, the largest gains were: Xiaopeng Motors rose 7.19%, Pinduoduo rose 6.66%, Weilai Motors rose 6.54%, Ideal Motors rose 5.11%, MINISO rose 4.87%, and TSMC rose 2.31% ;
The largest decliners were: Alibaba fell 8.13%, Shell fell 4.3%, iQiyi fell 1.07%, Momo fell 4.03%, Huanju fell 2.51%, Lufax fell 8.13%, Lexin fell 3.78%, and 360's Branch fell 2.42%, and Xinye Technology fell 1.48%.
Other concept stocks, the Star source of fuel, Jiu rich, AMC Theaters, Concord Medical Services, Garment Co., Ltd. Jiangsu Huarui, Human Education , Anpai Branch, Agritech, the Yangtze River port logistics and other 10 stocks among the biggest gainers , Of which Xingyuan Fuel rose 97.14%; Jiufu rose 13.01%; AMC Cinemas rose 8.84%; Taihecheng Medical rose 8.47%; Jiangsu Huarui Clothing Co., Ltd. rose 7.77%.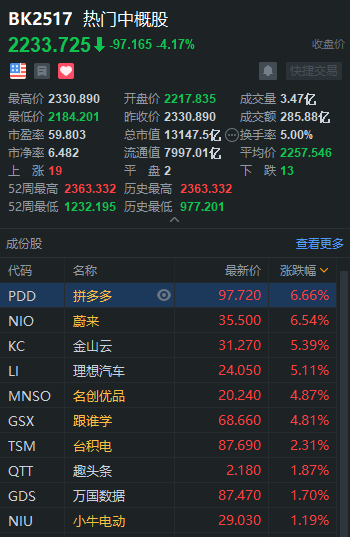 Focus review
Alibaba plummeted by more than 8%, its Ant Group suspended A+H listing
On the evening of November 3, the Shanghai Stock Exchange announced its decision to suspend the listing of Ant Group's Science and Technology Innovation Board under $Alibaba (BABA.US)$ . The Shanghai Stock Exchange announced that: Your company has also reported major events such as changes in the financial technology regulatory environment in which it is located. This major event may cause your company to fail to meet the issuance and listing requirements or information disclosure requirements. Subsequently, the Hong Kong Stock Exchange announced that the listing of Ant Technology Group's H shares on the main board of The Stock Exchange of Hong Kong Limited will also be suspended. Ant Group stated that it will announce further details on the suspension of the listing of H shares and the refund of application monies as soon as possible.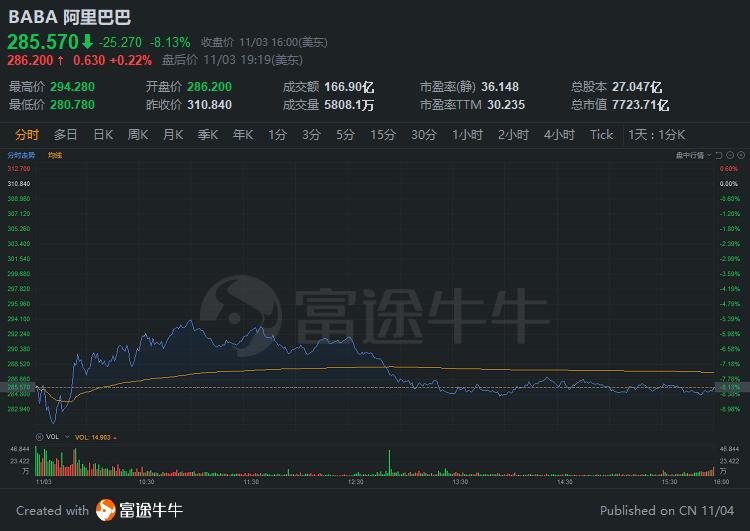 Goldman Sachs: Pinduoduo Q3 GMV is expected to be better than expected, upgrade rating to BUY
The latest report from Goldman Sachs upgraded the rating of PDD (PDD.US) from "Neutral" to "Buy" with a target price of US$123. Goldman Sachs predicts that Pinduoduo's GMV (total turnover) in the third quarter of this year will reach 421 billion yuan, a year-on-year increase of 69%, which is 12% higher than market expectations. In the third quarter, monthly active users will pass the 700 million mark for the first time, increasing to 718 million, further narrowing the gap with Alibaba.
As of the close of trading on Tuesday, Pinduoduo rose 6.66% to $97.72; after the market rose 0.81%.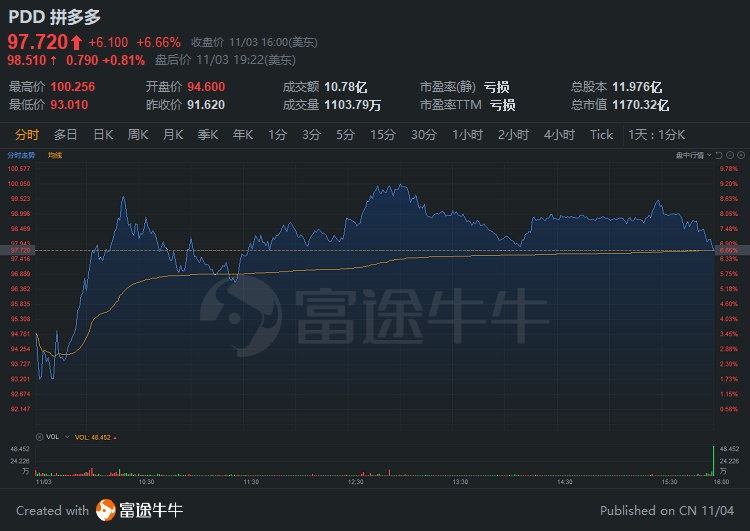 New forces in car-making rose again, Weilai set a new high, ideals approached a new high, Xiaopeng rose over 7%
New forces in car-making continue to rise. According to media reports, Xin Guobin, the vice minister of the Ministry of Industry and Information Technology, stated on the 3rd that in order to realize the sales volume of new energy vehicles and new vehicles by 2025, the total sales volume of new energy vehicles should reach about 20%. The rate must be maintained above 30%.
As of the close, $NIO (NIO.US)$ rose 6.54% to US$35.5, an intraday high of US$35.87; US$Ideal Car (LI.US)$ rose 5.11% to US$24.05, approaching a historical high of US$24.48 ; $Xpeng Motors (XPEV.US)$ rose 7.19% to $ 22.21.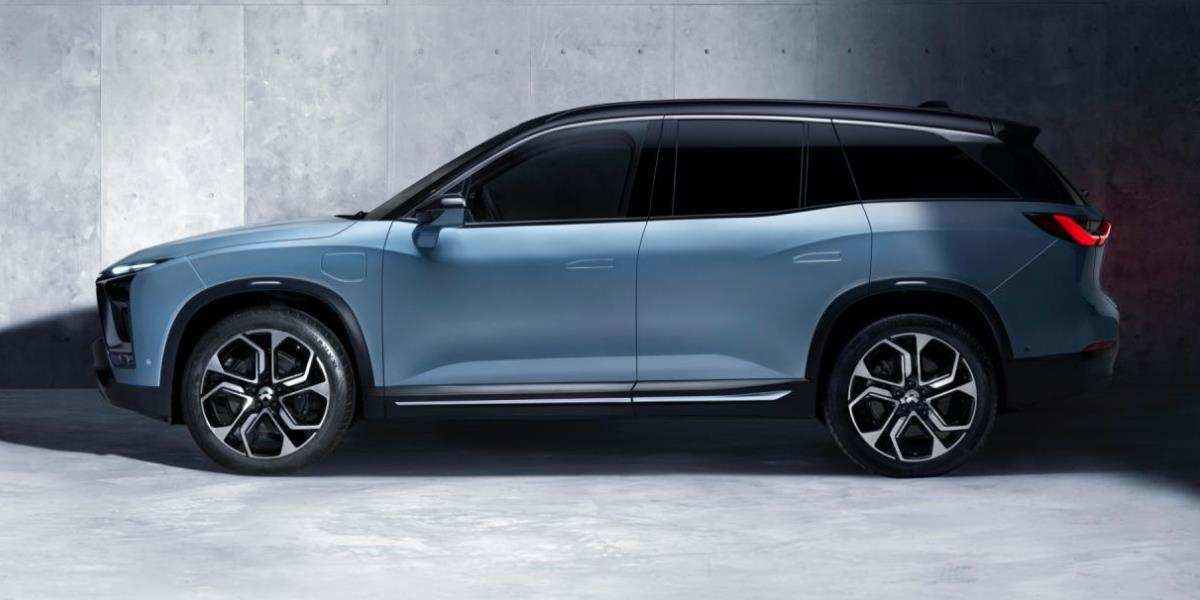 Goldman Sachs: NetEase Q3 revenue is expected to grow 25% year-on-year, and the target price is raised to US$107
Goldman Sachs analyst Elsie Cheng currently raises the target price of $NetEase (NTES.US)$ from $104 to $107, and maintains a "Buy" rating before the company announces its earnings on November 19. The analyst said that NetEase's third-quarter revenue is expected to increase by 25% year-on-year, and believes that the company's management will elaborate on the new games launched in overseas markets on its earnings call.
New Oriental: listed in Hong Kong to raise about 10.1 billion Hong Kong dollars, the issue price is 1190 Hong Kong dollars, is expected to be listed on November 9
$New Oriental (EDU.US)$ announced that the company intends to issue 8.51 million H shares for its second listing in Hong Kong. The final offer price has been determined at HK$1,190 per share, and the total proceeds (assuming the over-allotment option has not been exercised) It is expected to be approximately HK$10.13 billion. It is expected to be listed on November 9.
The company plans to use the net proceeds from the global offering for the following purposes: about 40% will be used to enhance the learning experience of students through the company's continuous innovation and technology investment, as well as improving the function and efficiency of the company's OMO system and other learning platforms; About 30% is used for the company's business growth and regional expansion; about 20% is used for strategic investments and acquisitions; about 10% is used for general corporate purposes and working capital requirements.