Provide domestically produced alternative solutions for yield control for chip manufacturers in the semiconductor industry chain.
The "Proposals of the Central Committee of the Communist Party of China on Formulating the Fourteenth Five-Year Plan for National Economic and Social Development and Long-Term Goals for 2035" put forward that the system will deploy new infrastructure and accelerate the fifth generation of mobile communications, industrial Internet, and big data centers. Wait for construction. Artificial intelligence, quantum information, and integrated circuits will become the "troika" of priority development.
The 36Kr interviewed " Zhongyi Cloud " is a company based on industrial interconnection, big data and artificial intelligence, focusing on providing big data platforms and yield control solutions for chip manufacturers (Foundry and IDM) in the semiconductor industry chain. The team has been deeply involved in the industry for 15 years, and has reached in-depth cooperation with customers such as SMIC , Hua Hong Hongli , and has been successfully applied in many mass production lines.
Its ADC (Automatic Defect Classification System), DMS (Defect Management System) and YMS (Yield Rate Management System) products that integrate big data and artificial intelligence are the leading professional engineering software for the semiconductor wafer industry in China, which can provide more in-depth Data mining capabilities, more powerful information analysis capabilities, and smarter problem management and control capabilities have achieved full coverage from the full dimensions of yield improvement (discovery, analysis, and disposal), realizing localized substitution.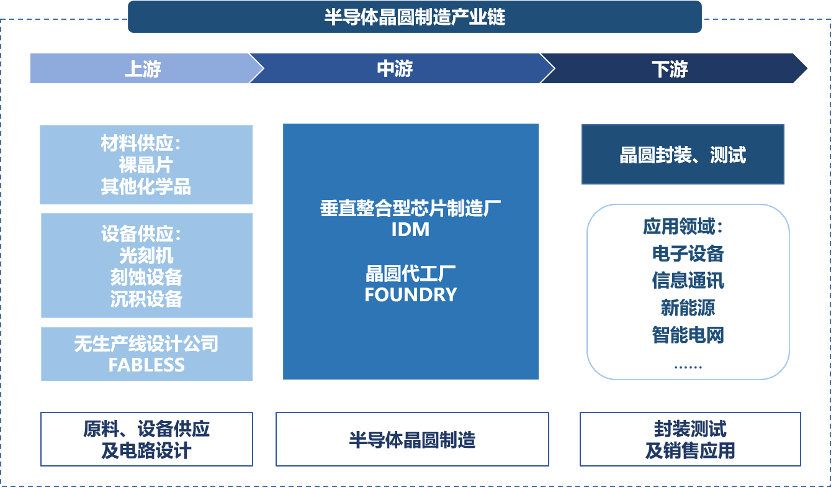 Semiconductor wafer manufacturing industry chain
The BDYAP platform independently developed by "Zhongyiyun" is a yield big data platform based on the Industrial Internet. The industrial App it provides involves wafer defect detection and yield improvement in chip manufacturing, production planning and scheduling, equipment and personnel scheduling , Predictive equipment maintenance, intelligent quality inspection, asset monitoring and operation and maintenance, etc. It can achieve high ROI and multi-dimensional improvement of manufacturing efficiency and quality. The average price of similar software provided by international leading manufacturers is more than US$2 million, while the price of "Zhongyiyun" is less than half. The use of "Zhongyiyun" products can achieve "domestic substitution" with high quality and excellent price.
To solve the yield problem in wafer manufacturing, data analysis based on the Internet of Things is required. When collecting unstructured data from a mass production line for POC, it is necessary to use FDMS (Foundry Domain Expert System) to clean and manage the data and intelligently analyze and match the data. Train models through algorithms. One model requires multiple algorithms. Support, not an algorithm that eats all over the world. For example, there are two dimensions to measure the quality of AI ADC models: accuracy and purity. When the comprehensive index reaches 85%, it is possible to import the entire production line.
In addition, "Zhongyi Cloud" can also solve the problems of data tracking and data interaction in the wafer manufacturing process. For example, its Lot Tracing system can realize the data tracking of Foundry factory lot's full life cycle, which can improve the decision-making efficiency of production, management, and operation. The adopted Hadoop and Flink technical architecture have the advantages of high controllability, low cost, and timeliness. In addition, the SIIP industrial interconnection platform of "Zhongyiyun" can help foundry companies realize a business interaction and data interaction management platform that runs through the entire life cycle of business stages from design, tapeout, manufacturing, outsourcing and processing to after-sales. It is used to solve the problem that most Foundry does not have a unified industrial Internet platform to manage and track business chain breaks and data islands caused by data interaction with external partners.
Currently, "Zhongyiyun" yield control technology has been applied to three scenarios: AI+ADC (automatic defect recognition and classification), AI+Metrology (measurement) and AI+Mechanism Trace (tracing analysis). In AI automatic defect recognition scenarios, it can achieve an accuracy rate of greater than 95%, defeating KLA and AMAT; and the usual report output time in AI measurement scenarios is shortened from six hours to about one hour; in AI retrospective analysis, the Problems that cannot be solved by deposition can also achieve a success rate of more than 50%.
In terms of business, "Zhongyiyun" BD mainly has three channels: one is the most important, that is, the industry reputation after verification by the head manufacturer, and the successful case is a must-have ticket to enter other customer sites; the second is the entrepreneurial team for 15 years The accumulation of deep industry experience and contacts, the third is to establish the company's extensive market and industry awareness by participating in world and national competitions.
In August 2020, the State Council set a goal of achieving 70% chip self-sufficiency rate by 2025, but the current self-sufficiency rate is only about 20%. The entire industry's production capacity has at least three times more room for growth. Therefore, software and hardware products and solutions for big data and yield control also have sufficient growth potential. According to SEMI estimates, by the end of 2020, the overall 8-inch wafer supply capacity in China will reach 1.3 million pieces per month, and the monthly output of 12-inch wafers is also estimated to be 750,000 pieces per month.
In the future, different from "production automation" software, "Zhongyi Cloud" will continue to develop the "engineering automation" software market in Foundry wafer manufacturing and large silicon wafer production, including three sets of carriages of industrial interconnection, big data and AI yield control . Calculated based on the minimum market size of 100 Chinese Foundries and 5 large silicon wafer manufacturers during the "14th Five-Year Plan" period of 2020-2025 (equivalent to 1/20 of the benchmarking international manufacturers), and the minimum market size of each manufacturer's annual R&D investment of 40 million. The investment amount is 21 billion yuan. In the domestic semiconductor industry, there are usually only 2-3 suppliers in the subdivisions. Therefore, according to the estimated market share of 20%, "Zhongyiyun" is expected to achieve about 4 billion yuan in revenue in 2025.
Li Haijun, the co-founder of "Zhongyiyun", told 36Kr that under the overall situation of self-control and control, the team established a vision to build a AiPC (AI Based Process Control) company with a market value of 100 billion in five years. The practice of the world's leading manufacturers in the semiconductor industry has shown that the advancement of Moore's Law by relying only on the evolution of processes and materials itself has become increasingly slow and difficult, and artificial intelligence has become a battleground for military experts.

"Zhongyiyun" expects to complete the Pre-A round of financing on the eve of New Year's Day in 2021. The funds will be used for industry promotion, research and development based on customer needs, and to strengthen the docking with the state-owned industrial chain. At the same time, the team is recruiting ( yinjiao@allinabc.com ).