No one can deny that "ecology" is the most important strategic play for global technology companies this year.
In the late autumn night, you came home from work overtime against the cold wind and tired body. As soon as you enter the door, the heating has been automatically turned on in advance according to your settings, and the water heater also starts to heat up. You are greeted home with a warm room and exactly 38 degrees of heat. water.
After taking a shower, you say "good night", the lights are automatically turned off, the curtains are automatically drawn, and the mattress automatically adjusts its angle and softness according to your physical condition today. These devices are not of the same brand, but they can be controlled uniformly with the same App or voice device. Behind this is not black technology, but ecology, making interconnection a reality.
No one can deny that "ecology" is the most important strategic play for global technology companies this year.
Based on the iOS operating system, Apple has established an "Apple Ecology" that integrates supply chain companies, software application developers, and product users around smart hardware such as mobile phones, tablets, computers, and watches; based on QQ and WeChat, Tencent has established a social network , Content distribution as the core ecosystem.
The so-called "building an ecology" is to create an environment where big partners and small partners can develop, just like trees , flowers, and grasses in a forest . For the ecology, the most important thing is these big and small "developers", who are the living water and endogenous force of the ecology, working together to promote the growth of the ecology and continue to grow.
But "ecology" sometimes means "drawing a circle." Taking the AIoT industry as an example, manufacturers such as OPPO and JD.com have built their own AIoT ecosystems. At the same time, the "circle drawing" problems such as the fragmentation of urban and rural regional markets, the scattered data of the brand "owning the mountain as the king", and the difficulty of interoperability have become increasingly prominent. Just as the PC era requires Windows, the mobile era cannot do without Android and iOS. Today's market also calls for the addition of open and neutral platforms to break the barrier and promote ecological cooperation. The so-called "the one who has the same desire up and down wins", the market also needs a "leader" who can meet the common needs of the ecological upstream and downstream to seek a win-win situation.
Be a neutral and open ecosystem builder
Tuya Smart hopes to become such a role. Inject smart, high-efficiency, and low-cost "cement and stones" into the loose sand table of the AIoT industry, and then use the platform as "water" to compactly solidify it into an inseparable ecological whole.
Tuya Smart CEO Wang Xueji once said: "Tuya Smart only wanted to be the role of'Enabler' (enabler) from the very beginning. Through an open and efficient operating system, it helps customers build their own products and brands instead of Directly participate in the production of smart hardware."
In fact, replacing monopoly with empowerment is the touchstone of the AIoT platform. For the majority of small and medium-sized enterprises, a non-closed third-party IoT platform is more popular than relying on a large IoT platform. "Neutrality", "openness", and "win-win" have become development trends generally recognized in the industry.
Only when the AIoT platform focuses on polishing the underlying system and has the diversity of supporting partners, can the entire ecosystem be full of creativity and promote the realization of intelligent landing results for enterprises. Take Tuya Smart as an example. Based on the underlying logic of its own platform, it enables smart products to achieve cross-brand interconnection.
Technically, Tuya Smart's AI+IoT developer platform allows developers to develop a personalized App within 5 minutes, and provides an efficient cloud service platform for data storage and utilization, enabling a new smart hardware The product can be mass produced within a week. In addition, its cloud development platform can not only meet the three major requirements of developers for data storage and analysis, device connection management, and application development, but also provide comprehensive support from hardware, cloud, OS, and SaaS levels to achieve all "Powered by Tuya" Products can be interconnected and not restricted by brand and category. Since its establishment, Tuya Smart has served more than 230,000 developers worldwide.
At the commercial level, Tuya Smart has also established an IoT marketing platform that connects global manufacturing plants and sales channels. Chen Liaohan, the founder and chairman of Tuya Smart, said that Tuya Smart currently has more than 100,000 sales channels worldwide (online and Offline), including HomeDepot, Wal-Mart, Orange, Lidl and other global channels, providing developers with a complete closed loop from development to sales.
"A core value of this platform is like the water, electricity, and coal in our lives. It can realize the intelligent on-demand use of hardware, which greatly improves the efficiency of automation in the entire industry. Before this platform, development, It usually takes 6 months to produce a piece of smart hardware." Chen Liaohan said.
Based on its own technical advantages and clear platform positioning, Tuya Smart's ecological upgrade path has become broader. Chen Liaohan introduced at the Global Hard Technology Developers Conference (Beijing) on ​​November 5th: By October 2020, the number of hardware devices empowered by the Tuya IoT development platform has reached 200,000, an increase of 122 compared to the previous year. %. On a global scale, the world's top 500 companies have more than 30 graffiti comprehensive strategic partners, such as Lenovo, Shi Schneider Electric , Philips and so on.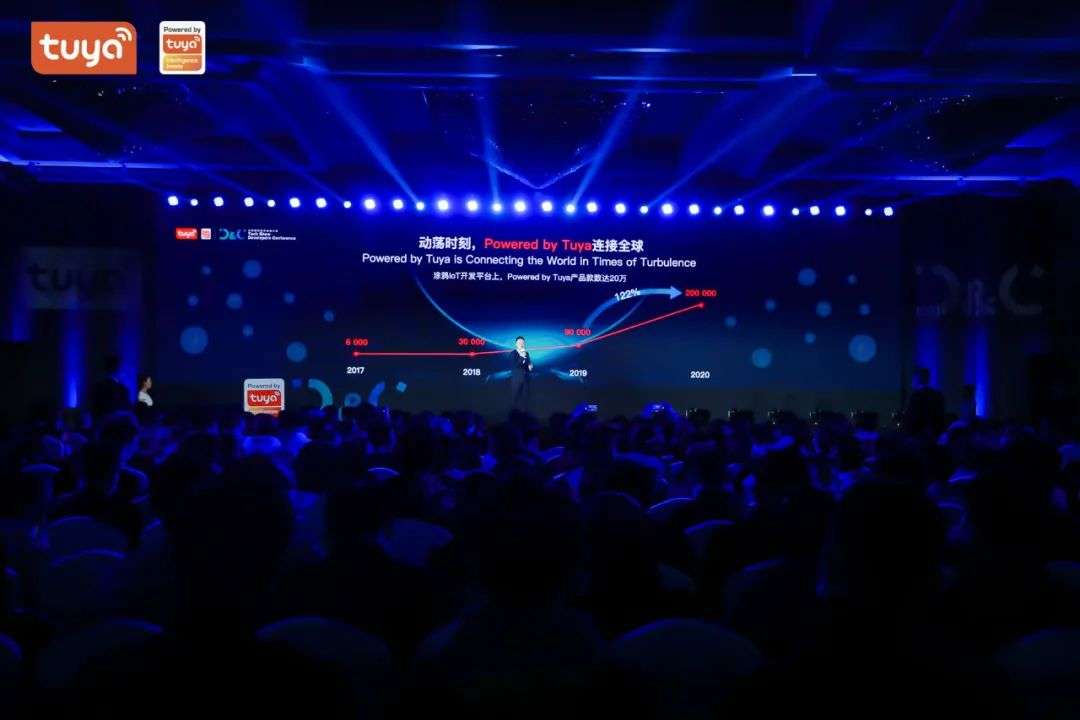 November 5th Global Hard Technology Developers Conference (Beijing)
Behind the growth of data is the gradual evolution of Tuya's intelligence.
Turning the time back to six years ago, smart hardware was still a new thing. The entry point of Tuya Smart is how to make the hardware intelligent, how to realize the rapid mass production and popularization of smart hardware at low cost, so that ordinary consumers can buy smart devices at a low cost, whether it is light bulbs, sockets, air conditioners, and air Purifiers, speakers. At that time, more customer groups and partners of Tuya Smart were manufacturing OEM factories.
With the in-depth development of AI technology and the Internet of Things, users have more and more demands for smart hardware, and their requirements have become more and more stringent. The addition of new smart home brands has stirred up the still water of the home environment market like a fish. Traditional home furnishing brands, real estate groups, hotels, properties, etc. are all eager to create an "intelligent" ecology.
It is not difficult to find that the factory does not have the concept of "ecology". They only care about how to make products intelligent and gain a larger market. However, what brand owners, real estate groups, and hotel groups need is scene intelligence, and therefore need an ecosystem that can serve their customers.
And this is the next battlefield after the "evolution" of graffiti.
The "Evolution Theory" of AIoT Platform: From Building Ecology to Output Ecology
Compared with single intelligent hardware, the advantages of the AIoT platform are multi-category, strong openness, and heavy connectivity. These characteristics make the AIoT platform inherently have the ecological attributes that platform-neutral builders and partners can continuously grow towards the same goal. When a more advanced system is formed, it will enter the periphery in some way and cause the evolution of the organization, just as the industrial revolution started in Europe and eventually affected the world.
Take Tuya Smart as an example. As a neutral AIoT platform, it took 5 years to build a "PaaS+SaaS" solution that integrates smart hardware and artificial intelligence Internet of Things, covering hardware development, global cloud development, IoT App development has three aspects, from technology to marketing channels, a comprehensive ecological closed loop. Exporting ecology to the outside is more natural for Tuya Smart.
Nowadays, the ecology of Tuya Smart has shown chemical reactions in the fields of smart real estate, communities, hotels, apartments, etc. More and more partners have built their own ecosystems using the technology and services provided by Tuya Smart.
In October of this year, Tuya Smart reached a cooperation with Orange Belgium, one of Belgium's largest wireless operators, to create an "Orange Smart Home" ecosystem based on the Tuya Smart Platform. This cooperation Orange Belgium has launched a variety of smart home products, including light bulbs, smart sockets and IP cameras, all of which can be connected and controlled through the "Orange Smart Home" App.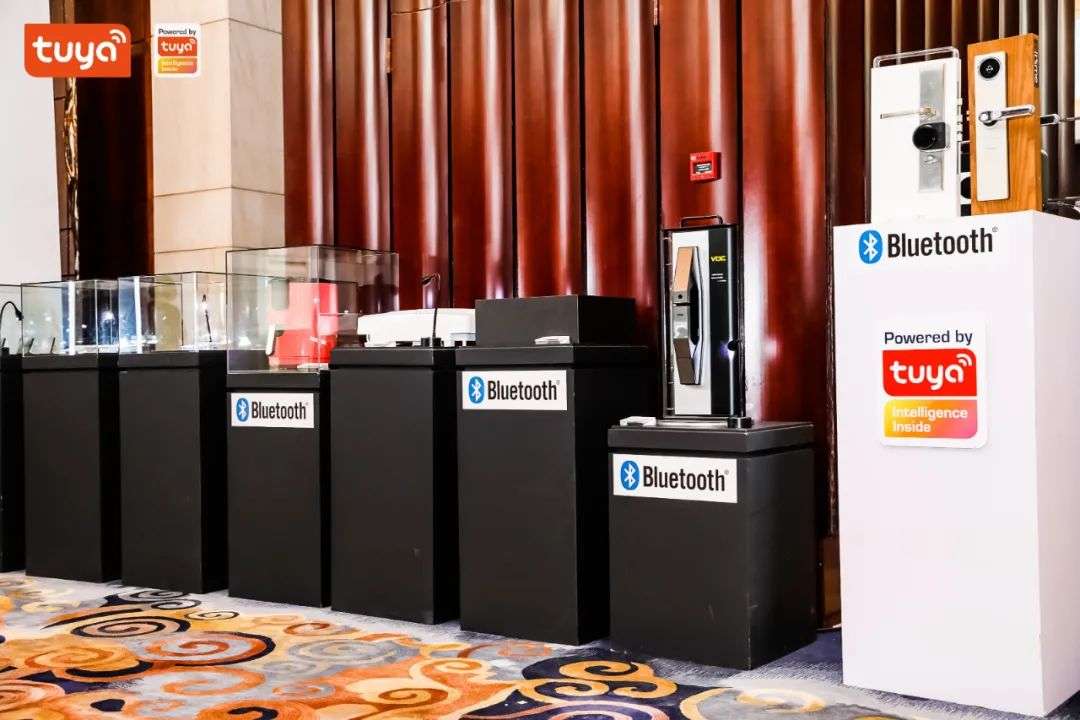 A variety of smart products that can be interconnected are exhibited at the Global Hard Technology Developers Conference
It is worth noting that another developer of Tuya Smart demonstrated the fusion of chemical changes between ecosystems. The French smart home start-up Konyks has successfully grafted the Orange ecology through the Powered by Tuya ecology. The three types of smart devices sold by Orange Belgium are all Konyks brand products, and all Konyks products are empowered by Powered by Tuya.
The two parties reached a cooperation in 2018. Thanks to Tuya Intelligence, more than a dozen products of Konyks have completed intelligent upgrades-realizing functions such as automation, APP control and voice interaction.
According to Olivier Medam, CEO of Konyks, Tuya Smart has saved time and labor costs from investment to software development and intervention. "Tuya helps us to select suitable manufacturers and provide powerful cloud services. Through an App, we can realize the interconnection and interoperability with other Powered by Tuya products. This cross-brand and category greatly expands the possibilities of our products."
With the popularity of smart homes, real estate developers have also begun to add this bright spot to their real estate, and is expected to become a potential bright spot for performance growth. For them, incubating an exclusive ecology has become a rigid demand, and Tuya Smart leverages its strength to realize the value-added and output of the ecology and platform.
Take the Ruilin Smart Habitat Platform of Sino-Ocean Group as an example. It has improved the quality of smart real estate solutions through the Tuya IoT development platform. In just 2 months, a complete set of intelligent systems such as back-end management, SaaS, and applets was created, which shortened the development time by 2/3. And access to the Powered by Tuya ecosystem, break through the barriers of different brands and categories, and build a smarter real estate ecosystem that is more inclusive, malleable, and practical.
"It can be seen that Tuya's ecological output has been extended from China to overseas, with not only hardware intelligence but also software wisdom. Tuya's ecology is vigorous, and we are helping a large number of cross-industry partners to upgrade the intelligent ecosystem." Chen Liaohan said.
Persistence of the AIoT platform: Be the underlying OS, not an independent brand
Nowadays, the trend of upgrading from "single intelligence" to "scenario intelligence" has become more and more obvious. Consumers increasingly hope that their work and living environment can be seamlessly and intelligently coordinated by multiple smart devices to achieve more Complex function combination.
Under this trend, artificial intelligence will be used more deeply, and multi-protocol connections will become more common. Equipment and solution suppliers will pay more attention to differentiation and experience. At the same time, stronger but less impactful security guarantees are required.
Smart home equipment manufacturers and brands are looking for practical tools and platforms that can provide standardization and across multiple communication protocols. They hope to spend more time on innovation and differentiation instead of deep understanding of component integration, wireless certification, etc. In terms of details, this is also one of Tuya Smart's core competitiveness.
"Tuya Smart has always insisted on being the underlying OS of AIoT. It will not make independent'Tuya' branded hardware to compete with our partners and customers, nor will it hold any data." Chen Liaohan said, "On Wi- With the development of Fi 6 and other new technologies, as an AIoT platform that outputs ecology step by step, Tuya Smart has a lot to do."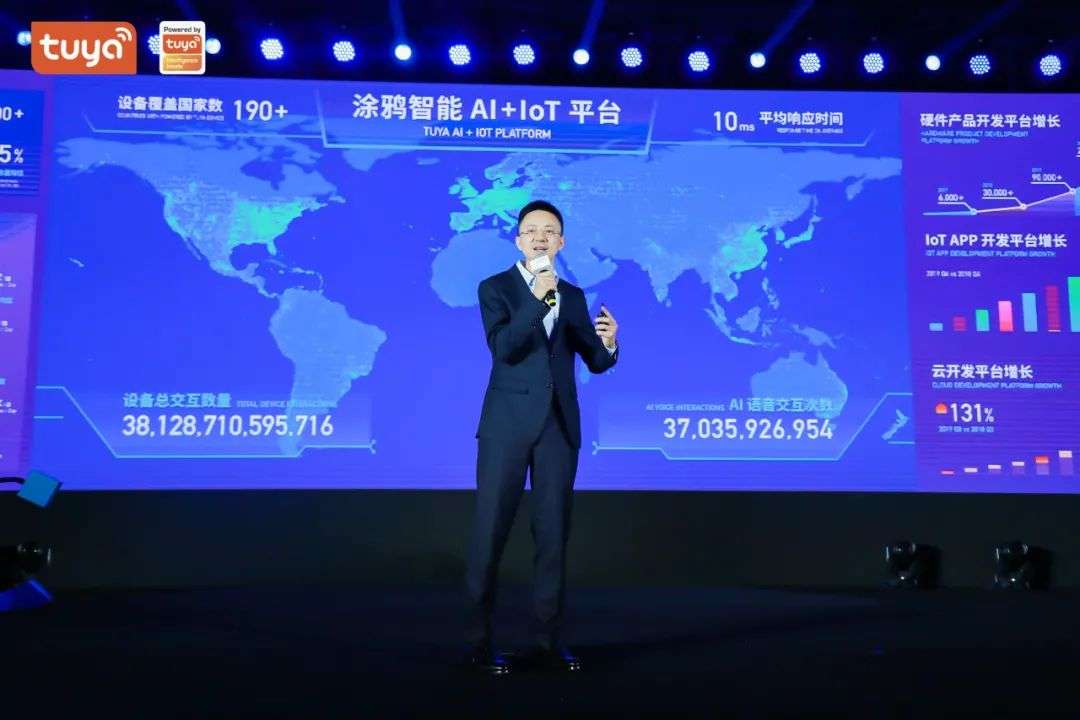 Chen Liaohan, founder and chairman of Tuya Smart
The next step for Tuya Smart is to continue to innovate and iterate on technology. The popularity of WiFi 6 will have a huge impact on smart homes. In the WiFi 6 environment, home routers will be able to link more devices. Tuya Smart hopes to lead such a technological innovation. In addition, it will continue to break through the platform. Number of commercial applications.
"Serving two hundred thousand developers is far from enough. How to build a platform that can be replicated on a large scale is also a challenge we have to overcome." Chen Liaohan said.
It can be seen that after PC Internet and mobile Internet, the era of multi-party control of voice and motion, real-time interaction, and "wisdom of all things" is accelerating.
The new AIoT technology is fully integrated into space intelligence, and the "Internet of Everything" may be the first to be realized in the whole house. The smart home market forecast issued by the authoritative research organization of StrategyAnalytics shows that in 2019, consumers will spend US$103 billion on smart home-related hardware, services and installations, and will increase to US$157 billion (RMB 11,000) by 2023. 100 million yuan), with a compound annual growth rate of 11%.
The realization of all this is inseparable from the efforts of "ecological exporters" like Tuya Smart. With more advanced concepts, a more developmental attitude, and a more comprehensive technology, it promotes cross-industry and cross-border developers to enter a new era together.