According to Korean media reports on October 25, Samsung Group Chairman Li Jianxi passed away at the age of 78. Since then, the second-generation entrepreneur Li Jianxi who led the Samsung Group to glory has come to an end.
As the third son of Samsung founder Li Bingzhe, Li Jianxi can replace his elder brother Li Mengxi as the second-generation successor of Samsung Group, which is closely related to his pioneering and innovative ability and his achievements in the semiconductor field. In December 1974, Lee Kin-hee, then director of Samsung's TV station Toyo TV, acquired South Korean Semiconductor (the predecessor of Samsung's semiconductor division) invested by American kamco, which transformed Samsung Electronics from a fake appliance manufacturer into a global smartphone, TV and memory chip The giant laid the foundation.
In November 1987, Li Bingzhe passed away. On December 1 of that year, Li Jianxi became the new chairman of Samsung Group, which opened Samsung's "second entrepreneurial era". "Everything except wives and children will change," Li Jianxi said in 1993 when he put forward the "New Business Declaration".
After the second venture, Lee Kin-hee extended the Samsung Group's business from trade, food, fiber, insurance, home appliances, parts, semiconductors, machinery, chemicals and other fields to petroleum, automotive, medical and other industries, making Samsung a veritable coverage of all industries The "comprehensive chaebol" has penetrated into all aspects of Korean life. Reuters once described the status of Samsung Group in South Korea: Samsung's chairman Lee Kin-hee "coughs" and the whole of South Korea will "cough". According to statistics, Samsung Group has at least 62 subsidiaries. Among them, Samsung Electronics, Samsung Life Insurance, and Samsung Properties are among the top 500 companies in the world of Fortune in 2019.
The turning point occurred on May 10, 2014. On the same day, Li Jianxi was rushed to Samsung Medical Center for stent implantation due to a heart attack . He has been receiving treatment in the exclusive area of ​​the hospital. Li Jianxi's only son, Li Jae-yong, became the actual controller of the Samsung Group.
However, at this stage, due to the involvement of former South Korean President Park Geun-hye's "confidential involvement in politics", Lee Jae-yong has been in a "lawsuit", and Samsung has been in a sensitive period when the management authority is handed over to the third-generation successors.
After Li Jianxi's death, how will the power of Samsung's "empire" be distributed? Can the actual controller Lee Jae-yong successfully become the third chairman of the Samsung Group? Under the background that Lee Jae-yong has promised that he "will not pass control of the company to his children", how long can the Korean chaebol's "children's inheritance" status last?
Distribution of "rights" for children
From the perspective of wealth inheritance, Samsung Group is a veritable "family business". After the death of Samsung's first-generation founder Li Bingzhe on November 19, 1987, his third son Li Jianxi took over the group. After Li Jianxi's death, the focus of the outside world is focused on how the rights of Li Jianxi's three children will be distributed and changed? Can the eldest son Lee Jae-yong successfully become the third chairman of the Samsung Group?
Lee Kin Hee has three daughters and one son, the eldest son Lee Jae-yong, the eldest daughter Lee Boo-jin, the second daughter Lee Seo-hyun, and the younger daughter Lee Yoon-hyun. The four born with a golden spoon, except for the younger daughter Lee Yoon-hyun, all play important roles in the Samsung Group. Has its own "sphere of influence".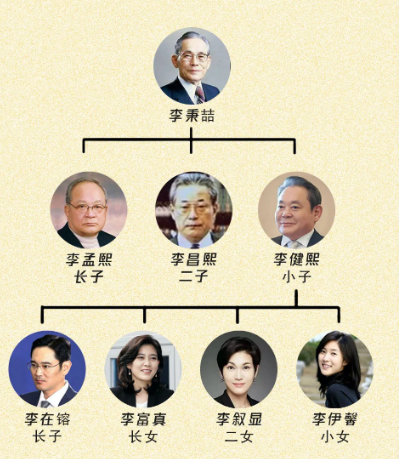 The picture shows a key figure in the Samsung family, drawing: Cai sees
According to public information, Lee Jae-yong is the vice chairman of Samsung Electronics and holds 16.5% of Samsung C&T. He is the actual controller of Samsung Group; Lee Boo-jin is the president of Samsung's Shilla Hotel and the business strategy department of Samsung C&T Resorts Construction Department. President; Li Xuxian is the president of the apparel division of Everland, the main holding company of Samsung Group; Li Yinxin is the youngest child of Li Jianxi, passionate about racing and extreme sports. According to statistics, as of 2003, Li Yinxin owns US$191 million in Samsung shares . In November 2005, Li Yinxin hanged herself in an apartment in Manhattan, when her personal wealth exceeded US$157 million.
Although Lee Jae-yong, Lee Fu-jin, and Lee Seo-hyun are in "important positions" in Samsung Group, it can be seen from the positions of their branches and the revenue ratios of each branch that Lee Jae-yong has been regarded as the successor of Samsung Group. People come to cultivate.
Samsung Electronics has always been the foundation and lifeblood of the Samsung Group, accounting for 70%-80% of all Samsung Group revenue. According to the world's top500 data from Fortune in 2019, Samsung Electronics' revenue in 2019 was 221.5 billion US dollars, Samsung Life's revenue was 29.3 billion US dollars, and Samsung C&T's revenue was 28.3 billion US dollars. In order to train Lee Jae-yong to become Lee's successor, Lee Jae-yong was arranged to enter Samsung Electronics as soon as he graduated.
In 1991, Li Zaiyong, who graduated from the doctoral program of Harvard Business School, joined the Samsung Group. 10 years later (2001), Lee Jae-yong became the executive assistant of Samsung Electronics, and then the executive officer of the business planning team; in December 2009, Lee Jae-yong was promoted to Samsung Electronics' vice president and customer director; in November 2010, he was promoted to president; In December 2012, he became the vice chairman. In October 2016, Li Zairong entered the board of directors to formally control the company's decision-making power.
In addition to holding important positions at Samsung Electronics, Lee Jae-yong is also a major shareholder of Samsung C&T, another core asset of the Samsung Group. Statistics show that Lee Jae-yong owns 16.5% of Samsung C&T, while Lee Fu-jin and Lee Xu-hyun each hold 5.5% of the shares.
It can be seen from Li Fuzhen's resume at Samsung Group that Li Fuzhen's "sphere of influence" is mainly in the Shilla Hotel. From 2001 to 2010, Li Fuzhen served as the head of the planning department, executive, and president of The Shilla Hotel. According to China Economic Weekly, after Li Fuzhen took charge of the Shilla Hotel, the hotel sales increased from 430.4 billion won at the time to 3.25 trillion won in 2015, an increase of more than 650%.
Since its establishment in 1979, the Shilla Hotel has a history of more than 40 years. Now it is not only the wedding temple of choice for famous Korean movie stars such as Jang Dong Gun and Kwon Sang Woo, but also the first choice for heads of state and political figures to stay in Seoul.
Judging from the original intention of its establishment, the Shilla Hotel has become a footnote to the changes in the relationship between Samsung and the Blue House. In 1979, the Blue House guest house built in the old no longer used Guesthouse government, Lee Byung-chul Bianxiang then South Korean President Park Masahiro acquisitions, including the whole mountain head with State Guesthouse, and has opened next to Shilla Hotel.
In addition to taking charge of the Shilla Hotel, Lee Fujin also serves as the president of the business strategy department of Samsung's resort construction department.
However, compared with his business ability, what Li Fuzhen is well-known to the world is his "sky divorce case" in 2016. In June 2016, Li Fuzhen's ex-husband Ren Youzai appealed and filed a 6.9 billion yuan property division appeal.
Compared with the eldest sister Li Fuzhen, Li Jianxi's second daughter Li Xuxian is more low-key. According to records, Li Xuxian has always been interested in fashion. He graduated from Parsons School of Design in New York, USA, and entered the No.1 Woollen Company under Samsung Group in 2002, responsible for fashion and luxury goods business. In the following years, Samsung's fashion business was expanded under the promotion of Li Xuxian, and she was promoted all the way to executive vice president of the group.
On July 17, 2015, Samsung C&T (Samsung Moolsan was established in 1951) and Cheilwoo Textiles (established in 1954) passed the merger plan of the two companies. Lee Seo Hyun holds 5.5% of the shares of the merged "Samsung C&C".
Lee Jae-yong's road to succession has twists and turns
Judging from the positions of the three surviving children of Li Jianxi in the Samsung Group, if nothing goes wrong, Li Jae-yong, who is already the vice chairman of Samsung Electronics, will become Li Jianxi's successor. But in reality, Li Zai-yong's succession was not smooth. He experienced two crises and prisons.
On July 16, 2008, Li Jianxi was sued for illegal transfer of business rights and tax evasion. Li Zairong was also involved in assisting Li Jianxi in transferring assets. On August 22, 2008, Li Jianxi resigned as chairman of Samsung under pressure. In order to avoid risks, Li Zairong went to Samsung's overseas offices to temporarily take refuge. It was not until 2009 that Lee Kin-hee received an amnesty from the then South Korean President Lee Myung-bak that Lee Jae-yong returned to the Samsung Group at the end of 2009.
The second crisis of Li Zayong occurred in 2016.
On November 2, 2016, South Korean prosecutors stated that the investigation found that Samsung Group's 2015 former President Park Geun-hye's protagonist Choi Soon-sil and his daughter Jeong had remitted 2.8 million euros (approximately) to the "Widec Sports" company established in Germany. 20.9 million yuan), the prosecution launched an investigation and will summon relevant personnel from Samsung. According to reports, on January 16, 2017, the independent prosecution team of South Korea's "Presidential Faithful Gate" filed an arrest warrant against Samsung Electronics Vice President Lee Jae-yong, accusing Lee Jae-yong of allegedly intervening in Samsung's provision of financial assistance to President Park Geun-hye's cronie Choi Soon-sil .
On the afternoon of August 25, 2017, a South Korean court made a first-instance verdict on the bribery case of Lee Zayong, and Lee Zayong was sentenced to 5 years in prison. Regarding the allegations, Lee Jae-yong said that he had to pay bribes at the request of Park Geun-hye. "The president's entrustment could not be rejected, so he spent money in the consortium." On February 5, 2018, Li Zairong was sentenced to 2 years and 6 months in prison in the second instance, suspended for 4 years, and released in court.
Six months later, Samsung announced a new plan to invest 180 trillion won (approximately RMB 1 trillion) in the next three years, and hire 40,000 new employees, making it the largest single conglomerate in the history of South Korea. Investment plan.
Although he was released in court, Li Zayong was still found guilty in the second instance. In August 2019, the Supreme Court of South Korea overturned the previous ruling and ordered a review of the Lee Jae-yong bribery case, which was also laid down by Lee Jae-yong's request to appear in private as the accused for trial on May 26, 2020. Foreshadowing.
On June 4, 2020, the Seoul Central District Prosecutor's Office requested the court to approve the arrest of Li Zaiyong and two former Samsung executives (former Samsung Future Strategy Office) on the grounds that they were suspected of violating the Capital Market Act and related laws on external auditing of listed companies. Director Cui Zhicheng, Head of the Strategy Team Jin Zhongzhong). The prosecutors believe that the illegal merger of Samsung C&T and Cheil Woollen Co., Ltd. under the Samsung Group in 2015, and the financial fraud of Samsung Biologics in order to raise market valuations were all for Lee Jae-yong to take over from his father Lee Kin-hee. To create favorable conditions for Samsung Group.
Five days later, on June 9, the Seoul Central District Court rejected the prosecution's application for the arrest of Samsung Electronics Vice Chairman Lee Jae-yong and decided not to approve the arrest. Although Li Zairong escaped the fate of being arrested again, but this time there was a price to escape.
Just a month ago, Li Zayong publicly stated that he "will not pass control of the company to his children."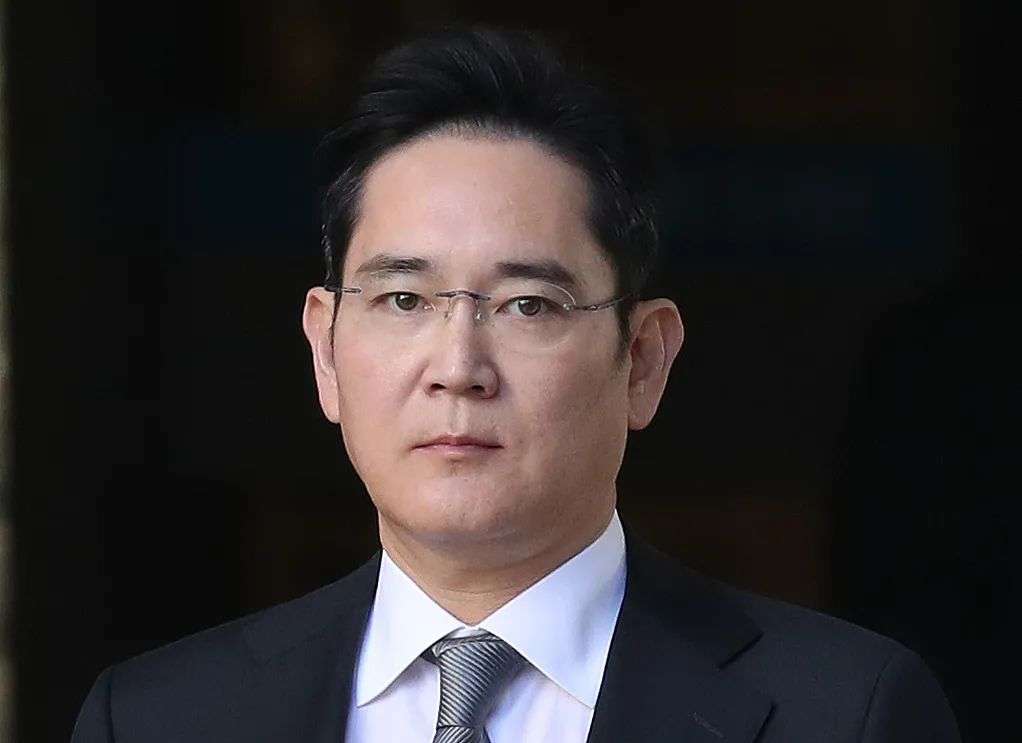 How long can the "child inherit the father's industry" last?
On May 6, 2020, Lee Jae-yong said at a press conference held in Seoul that everything was his fault. He admitted that the many disputes surrounding himself and his company were ultimately caused by the succession issue, and said that he would not The idea of ​​giving management rights to children has been around for a long time."
"Will not give management rights to children" is an important turning point for South Korean chaebols who take family management for granted. Judging from the performance of Samsung Electronics during Li Jayong's detention in 2017, the negative news of "potential heirs" did not have much impact on the company's development.
According to Samsung Electronics' financial report for the fourth quarter of 2017, Samsung's revenue reached 66 trillion won in the quarter, a year-on-year increase of 24%; net profit was 12 trillion won, a year-on-year increase of 73%.
In addition to the group's performance, whether the South Korean chaebol's rights can be "hereditary" is even more due to the contests and struggles between the South Korean government and the Samsung Group and other major chaebols.
Although the three generations of "helms" Lee Bingzhe, Lee Jianxi, and Lee Jae-yong of Samsung Group played different roles in the development of the company, they all have one common feature, that is, the ups and downs of their lives are closely related to the changes in the "power" of the Blue House. Related.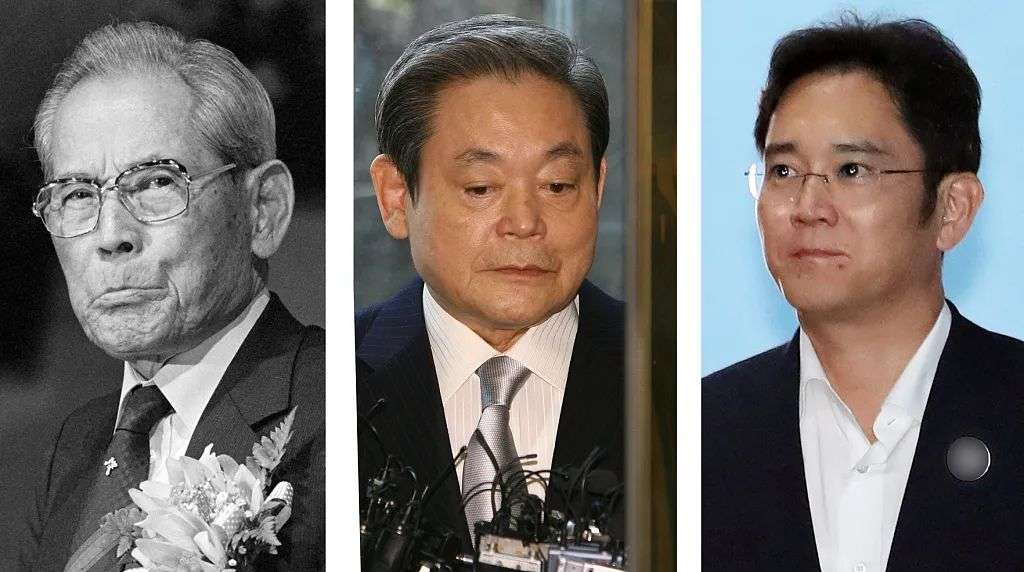 Samsung founder Li Bingzhe regained his own safety by "handing over property". Li Jianxi received several amnesties by donating and "assisting" large-scale national projects; Lee Jae-yong also changed his sentence from five years to five years because of "the government needs Samsung now". 2 years and 6 months, suspended for 4 years.
On May 16, 1961, South Korean Army Major General Park Chung-hee overthrew Rhee's regime in a coup d'état. After he succeeded, he imprisoned 11 entrepreneurs for illegal wealth accumulation. It is documented that Li Bingzhe, who was going to return from Japan, wrote a letter to Park Chung-hee's military government before boarding the plane, to the effect that "without economic stability, poverty cannot be eliminated. If the poverty problem of the people can be solved, I am willing to give everything. property."
According to Yamazaki Katsuhiko's book "The God of Entrepreneurship: The Biography of Samsung Founder Li Bingzhe", after landing, Li Bingzhe was placed under house arrest at Myeongdong Metropolitan Hotel. On the second day, Park Zhengxi went to the hotel to meet him in person. The first sentence was "I made you wronged." Under Li Bingzhe's insistence, all the detained entrepreneurs were released, but 27 companies were taxed 37.8 billion won. Samsung will bear 27% of the funds, and Li Bingzhe has also handed over three banks to the country.
Obviously, handing over part of the family's property to the state provides financial guarantee for the "safe landing" of Li Bingzhe and Samsung. After the death of Li Bingzhe in 1987, Li Jianxi, who took over as chairman of the Samsung Group, used this "government relationship" bargaining chip to the extreme, and the rise and fall of Samsung and the Blue House have since been furthered.
On December 5, 1995, the South Korean prosecutors prosecuted the former South Korean President Roh Tae-woo, accusing him of establishing approximately $600 million in secret political funds during his presidency from February 1988 to February 1993, receiving more than 30 companies. For about 370 million U.S. dollars in bribes, Samsung Group Chairman Li Jianxi was on the bribe list.
In 1996, Li Jianxi was sentenced to 2 years probation for bribery. Before the 1997 presidential election, Li Jianxi sponsored Li Huichang as much as US$10 million in political donations. Also in this year, Li Jianxi's "term of imprisonment" was exempted.
In the development process of Samsung, the business map of Samsung in the 1990s has covered various fields such as trade, food, fiber, insurance, home appliances, parts, semiconductors, machinery, and chemistry. With the expansion of Samsung's business landscape, the legal boundaries of Samsung's power holders have become increasingly blurred.
In 2007, Jin Yongche, the former head of the legal affairs team of Samsung's secretarial office, exposed a number of illegal acts of Samsung under Li Jianxi, including embezzlement of huge public funds for bribery, internal transactions of subsidiaries, and tax evasion. His report prompted a large number of private organizations to report to the Korean Prosecutor's Office. Initiating a complaint, the prosecution set up a special inspection team to initiate an investigation. On July 16, 2008, Li Jianxi was sued for illegal transfer of business rights and tax evasion. On August 22, 2008, Li Jianxi announced his resignation and apologized for the trouble caused by the group's economic scandal to South Korean nationals. On August 14, 2009, Li Jianxi was sentenced by the Seoul High Court to 3 years imprisonment, 5 years probation, and a fine of 100 million US dollars.
This time Li Jianxi also received an amnesty. On the last day of 2009, Li Jianxi received an amnesty from South Korean President Lee Myung-bak in the name "to help South Korea bid for the 2018 Winter Olympics." At this time, the Samsung Group has established 429 outlets in 68 countries and regions with 230,000 employees. Its business involves electronics, finance, mechanical chemistry, trade services, and many other fields. The Samsung Group's position in the Korean economy cannot be shaken.
According to the Peterson Institute for International Economics (PIIE) analysis of the Forbes billionaire list from 1996 to 2015, the proportion of wealthy people with assets exceeding 1 billion (approximately 1.2 trillion won) is from successors. Look, in 2014 South Korea was 74.1%. This value is more than twice the world average (30.4%). In this regard, some media commented that "Young Koreans used to think that staying up late to study can achieve their ideals, but after graduation they found that they would not be able to achieve class leaping without a family background. Only by entering a big chaebol like Samsung can they live their lives safely."
Samsung's rise, development, change of power, and wealth of the enemy's country have fully interpreted Samsung's founder Li Bingzhe's business philosophy "inaccessible and indistinguishable from politics". As the third-generation successor of Samsung Group, Lee Jae-yong is still We cannot get out of the pit of "love and kill each other" between the government and the chaebol. However, with the "unlimited" expansion of Samsung and other chaebols, eliminating the accumulated abuses of the chaebols has become one of the promises of some South Korean dignitaries to run for president.
"If I am elected, the focus of chaebol reform will be on Samsung." As the life and death friend of former President Roh Moo-hyun, South Korea's current President Moon Jae-in publicly stated his position during the campaign. It is obviously not an easy task to shake the foundation of the South Korean chaebol system in a short time. But on May 6, Lee Jae-yong's sentence "I have no idea to inherit the management rights of the company to his children" has opened a "ice-breaking" gap in the South Korean chaebol system.
However, for the Samsung family and Li Jianxi's children, the most difficult issue at the moment is not whether the group's "rights" can be "hereditary", but how to distribute Li Jianxi's estate and how to pay the huge inheritance tax.
In the 2020 South Korean Rich List, Lee Jianxi ranks first among South Korean "chaebols" with a fortune of $17.3 billion. According to South Korean law, the government will impose a 50% tax rate on inheritances exceeding 2.5 million U.S. dollars, which means that Li Jianxi's children will have to pay nearly ten billion U.S. dollars in inheritance taxes to inherit the estate. Some insiders once judged: "In order to pay the high inheritance tax, Li Jianxi's beneficiaries are likely to need to sell part of his estate to pay the inheritance tax, which will dilute the Samsung shares they hold."