In the semiconductor field, there is another acquisition of nearly tens of billions of dollars.
On October 20, SK Hynix officially announced that it will acquire Intel's NAND flash memory and storage business at a price of US$9 billion, including Intel's NAND SSD business, NAND components and wafer business, and its NAND flash memory in Dalian, China. Manufacturing plant. Intel will retain its unique Intel® OptaneTM business, and the acquisition is expected to be completed in March 2025.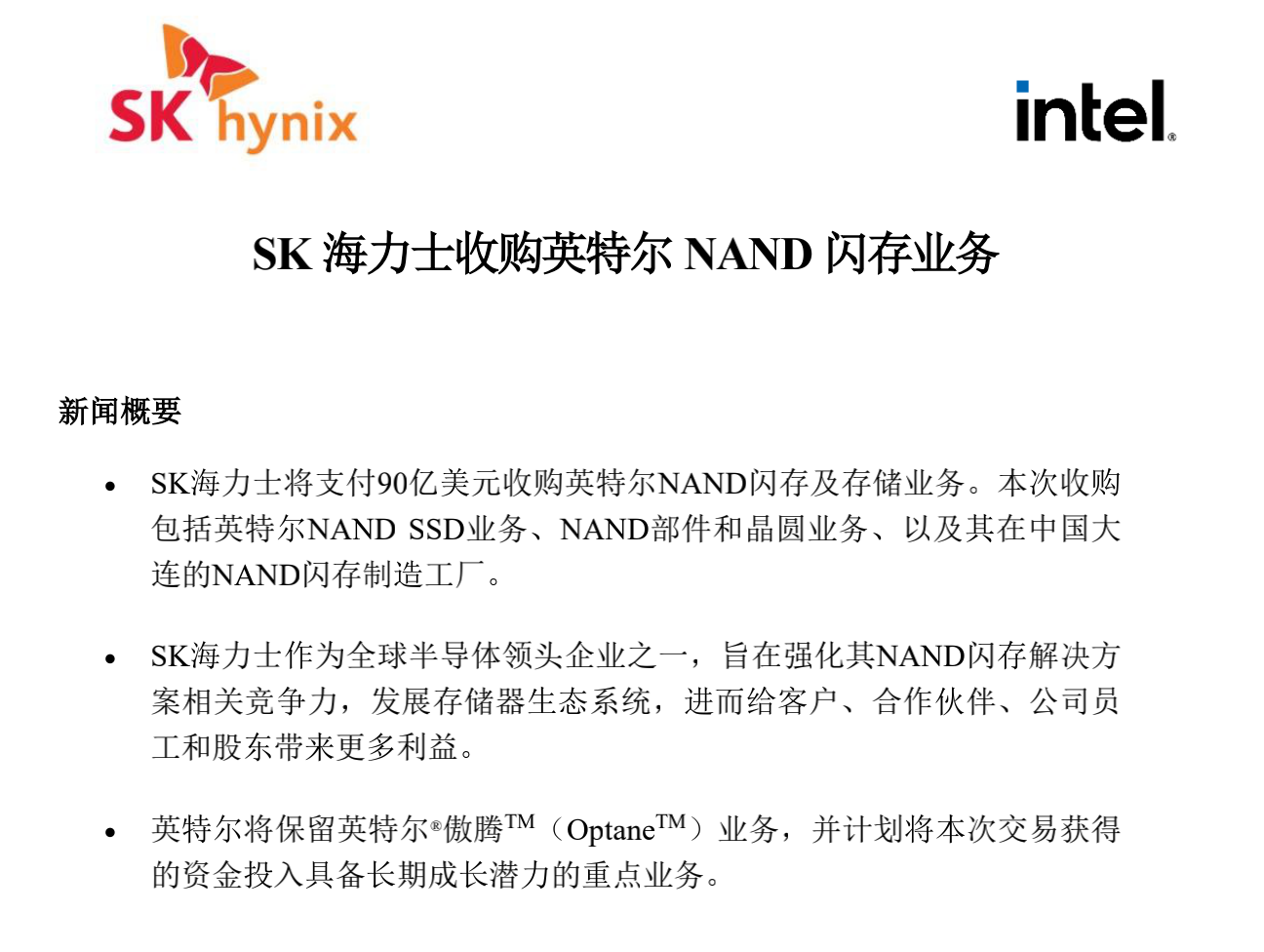 SK hynix official news
Prior to this, there was news that Intel planned to sell its memory chip division to SK Hynix Inc. for approximately US$10 billion. Affected by this news, as of the close of US stocks on the 19th, Intel shares rose 0.78% to US$54.58, an intraday increase of 2% to US$56.23; Hynix's share price fell 0.29% to close at US$13.93, and it also rose 2% during the session. , Quoted at 14.25 US dollars.
It is not the first time that Intel has "slimned" in recent years. In 2019, Intel sold its mobile phone modem business to Apple for $1 billion . In February of this year, it was reported that Intel plans to sell its home connection chip division to MaxLinear. SK Hynix plans to acquire the assets of Intel NAND news had spread in the last year .

As the world's leading leader in the semiconductor industry, why does Intel sell storage this "founded" business this time?
NAND business continues to lose money
According to data from DRAMeXchange, as of the second quarter of 2020, Intel ranked sixth in the world with a market share of 11%, while SK Hynix was the world's fifth largest NAND supplier with a market share of 12%.
NAND, also known as NAND Flash, is a kind of non-volatile storage particles. Simply put, this type of memory can stably retain data after a power failure, and is usually used to manufacture hard disks and other products.
For a long time, this market has been almost monopolized by six major storage manufacturers including Samsung, KIOXIA (formerly Toshiba Storage), Micron, Western Digital, SK Hynix, and Intel. Once the transaction is completed, if the market share of Intel and SK Hynix is ​​simply added together, according to the data of 2020Q2, SK Hynix's market share will exceed 20% and will be close to Samsung, becoming the second largest supplier of NAND. The entire NAND market structure will be rewritten.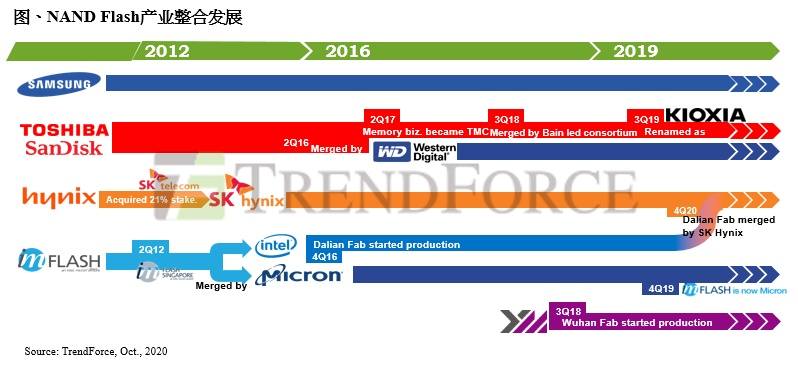 Source: TrendForce
For Intel, the NAND business is not its main business. According to its 2019 annual report, the annual revenue of the Non-Volatile Memory Solutions Division (NSG) where NAND is located accounts for only 6% of the total revenue.
According to data, as of June 27, 2020, Intel's NAND business has brought NSG approximately US$2.8 billion in revenue and approximately US$600 million in operating profits in the first half of this year . In the first half of the year, Intel achieved total revenue of $39.5 billion, accounting for only about 7%.
In fact, Intel's NSG business unit has suffered losses for many years and won't make a profit until the second quarter of 2020. According to the financial report, the business lost 540 million U.S. dollars, 260 million U.S. dollars, and 5 million U.S. dollars in 2016, 2017, and 2018, respectively. The operating profit loss in 2019 reached 1.2 billion U.S. dollars, and it was not profitable until this year.

NSG revenue source: intel 2019 annual report
As we all know, storage is the category with the largest proportion of integrated circuits, accounting for about 1/3. Among them, DRAM and NAND are the most important segmented products, accounting for about 95% of the total. According to statistics from DRAMeXchange, the market size of NAND Flash in 2019 reached 46 billion US dollars, accounting for 42% of the entire storage market.

The memory industry has periodic fluctuation characteristics. From the historical performance point of view, the memory industry is always in an alternating ups and downs cycle. Its industry cycle is stronger than the overall cycle of the electronic component market. This is mainly due to the alternation of supply and demand, and the mismatch of supply and demand. relationship. Since 2015, the demand for mobile terminals such as PCs and smartphones has increased sharply, which has stimulated the market demand for NAND. In addition, in 2017, the NAND process began to switch from 2D to 3D, but it was not as smooth as expected, affecting production, and prices rising sharply. Increased production by supply-side manufacturers.
Intel announced in 2015 the second phase of the Dalian plant, which is mainly used for the production of NAND flash memory. In 2018, Samsung Electronics announced that it plans to spend 7 billion US dollars in the next three years to expand about 67% of the NAND flash memory capacity of the Xi'an plant. Flash memory manufacturers such as Toshiba and Micron are also expanding their production capacity simultaneously. The domestic NAND flash memory of Yangtze River Storage is also in 2018. Mass production began in 2010.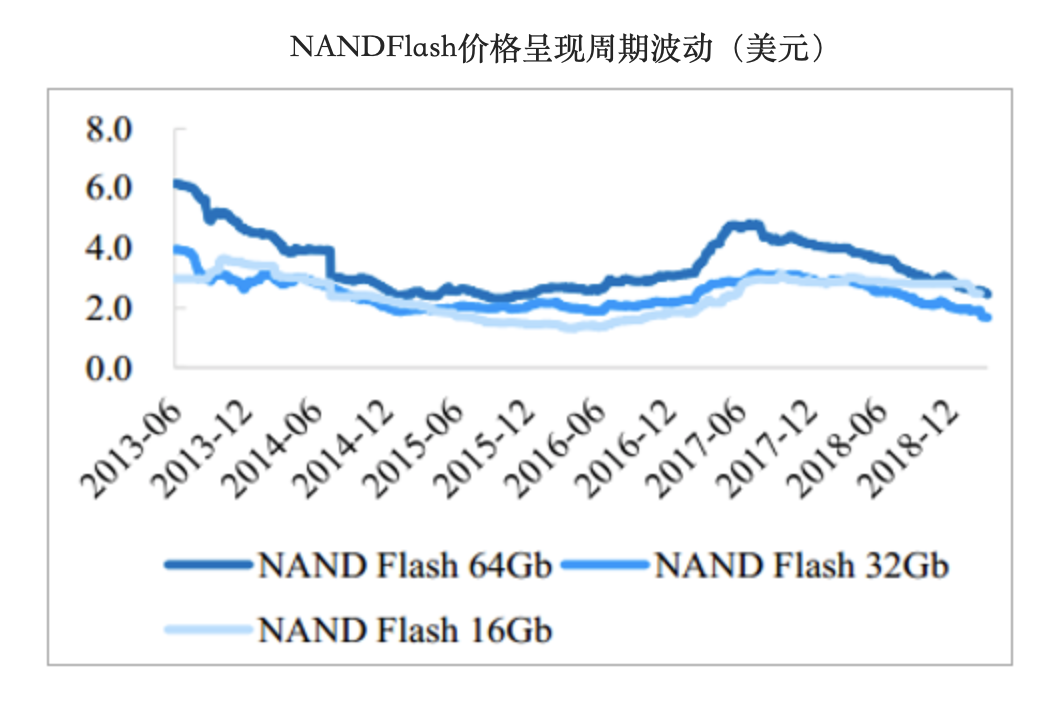 Source: public data compilation
According to the outlook put forward by DRAMeXchange, the supply of NAND Flash will increase by 42.9% in 2018, and the demand side will grow by 37.7%, gradually turning into balance. But facts have proved that oversupply has emerged, and the price of NAND has begun to fall in 2018. According to Yole's forecast, the price of NAND has dropped by 15% in 2018. Until 2019, various manufacturers adjusted their strategies, and the price of NAND began to stabilize and rise gradually in the third quarter. In 2020, affected by the epidemic and other public events, the demand for home office will increase sharply, the recovery of supplier capacity will be slow, and the price of NAND will rise, which will also benefit manufacturers including Intel and SK Hynix.
Large price fluctuations have also affected Intel's profitability in the NAND business. Earlier, foreign media reported that it was affected by the significant drop in the price of flash memory chips. In addition, the development and production of flash memory also requires a large amount of capital, which makes it difficult to guarantee profits. Intel considered It has been a while since it exited this market.
It's not easy for the elephant to turn around, Intel wants to focus on key businesses
The official announcement also mentioned in the press release that Intel plans to use the funds obtained from this transaction to develop industry-leading products and strengthen its business priorities with long-term growth potential, including artificial intelligence (AI), 5G networks and intelligence, Edge devices related to autonomous driving.
It is worth noting that this acquisition does not include the "Optane business" based on 3D Xpoint technology. According to public information, NAND flash memory products produced by Intel are mainly used in equipment such as hard disks, U disks and cameras.
The business goal of Optane is the data center market for new applications such as cloud computing, artificial intelligence, and big data. In April 2019, Intel launched the SCM product (Storage Class Memory)-Optane Data Center Class Persistent Memory SCM.
After the release of the product, it has been applied by many large manufacturers, and corresponding storage vendors have developed solutions with them . Giants such as Alibaba , Tencent Cloud , Inspur, China Telecom, Dell (EMC) and other giants all use this solution . In addition, a variety of distributed storage, including VMware vSAN, Qingyun NeonSAN, SMATX, and open source Ceph, have also designed a variety of representative solutions based on Optane.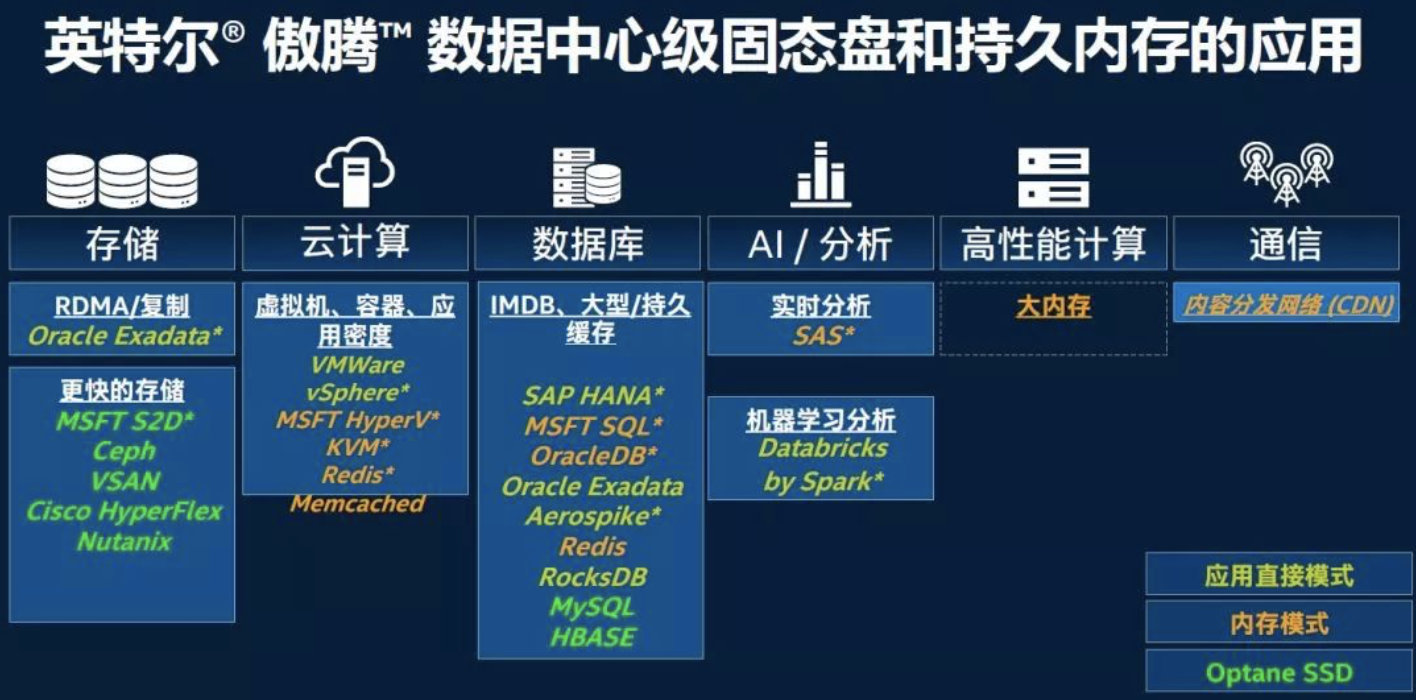 Source network
The data center is undoubtedly one of Intel's core businesses. In February 2019, Intel's new CEO Robert Swan mentioned in an open letter that Intel's transformation- from PC-centric to data-centric.
Today, in the data center (IDC) market, Intel will face increasingly fierce competition. Earlier this month, AMD's acquisition of Xilinx was also interpreted as an important step to further strengthen its competitiveness in the IDC market. And AMD has preempted Intel to release 7nm process data center processors, and Intel announced in the second quarter of this year that 7nm process processors were delayed by 6 months from its target release time, which made the market full of concerns.
Although the sale does not involve processors, AMD is coming in fiercely, and Intel may be a better choice to serve the IDC market with other product types and processors to form a better match. On the other hand, Optane is not invincible. Intron's traditional rivals in the storage industry Samsung, Toshiba, Micron, and SK Hynix have also launched or will launch similar products. How to maintain an advantage in this market and obtain a larger market share is also an issue that Intel must consider.
For SK Hynix, this will also be a good deal. SK Hynix's annual report shows that in the second quarter of 2020, the company's revenue reached 8.6 trillion won, an increase of 33% year-on-year, and an increase of 20% from the previous quarter; operating profit for the quarter reached 1.95 trillion won, an increase of 205% year-on-year, and an increase of 143% month-on-month; Net profit was 1.26 trillion won, a year-on-year increase of 135% and a month-on-month increase of 95%. Its financial report shows that as of March 31, 2020, SK Hynix's cash and cash equivalents are 3.92 trillion won (equivalent to 34 billion U.S. dollars), and it has sufficient cash reserves to complete the acquisition.
From the perspective of SK Hysley's business structure, in the second quarter, DRAM business revenue accounted for 73%, while NAND flash memory business revenue accounted for only 24%. After injecting Intel's power, SK Hysley is expected to usher in a more balanced business structure .
On the other hand, the acquisition of Intel's NAND business can also satisfy SK Hynix's need to increase the commercial value of high value-added products and increase production capacity. Located in Dalian, China, Intel invested 2.5 billion US dollars in construction in 2006 and 5.5 billion in 2015 to upgrade and expand production. It mainly produces 96-layer 3D NAND flash memory.
In 2019, major OEMs have expanded their 9X-layer 3D NAND production capacity, but SK Hynix has been slow. The acquisition of Intel's Dalian plant can make up for its lack of capacity in this area. It was previously reported that in July 2019, SK Hynix wanted to negotiate with Intel to acquire the Dalian factory and the 3D NAND business when it encountered Japan's supply crisis to South Korea .
However, some analysis pointed out that the integration of Intel and SK Hynix NAND Flash is the focus of SK Hynix's future attention. Because the two technical routes are different, the product structure design and process parameters need to be adjusted, and I am afraid that it still needs to go through a more painful running-in period.