The company's AI vision inspection product "Deep Inspect" has been successfully applied to dozens of industry leading customer factories such as 3C, automobiles, and new materials, and has won the trust and support of many customers.
Industrial AI vision provider "Deep Vision Technology" recently announced the completion of tens of millions of RMB Pre-A financing. This round of financing was led by Shunwei Capital, Xiao Miao Langcheng, Zhejiang University Alumni Fund Oufang Angel, Wangdao Capital and Weixian Capital acted as the exclusive financial advisor. The funds raised in this round of financing will be mainly used for the research and development of core products, expanding the project team, providing industrial customers with better product and service quality, and accelerating the replication and application of " Deep Vision " in the industry.
"Deep Vision Technology", the full name of Shanghai Deep Vision Information Technology Co., Ltd., was founded in 2017 by a team of senior AI vision algorithms, optical imaging and engineers who have been continuously pioneering in Silicon Valley . It is committed to adopting innovative imaging and AI vision technologies. Provide products and solutions for industrial quality inspection problems that are difficult to solve by traditional machine vision.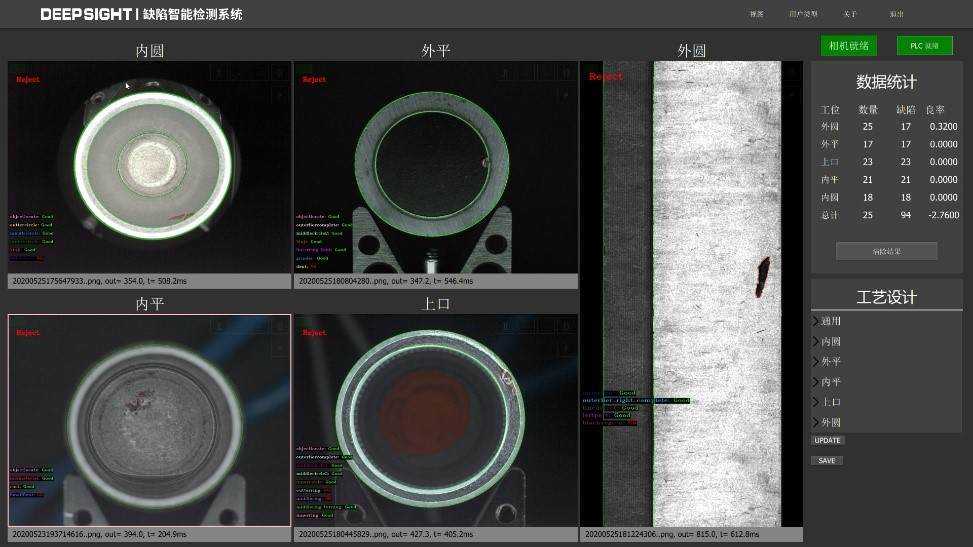 "Deep Inspect" intelligent terminal detection
The company's AI vision inspection product "Deep Inspect" has been successfully applied to dozens of industry leading customer factories such as 3C, automobiles, and new materials, and has won the trust and support of many customers.
Take the soft board in the 3C industry as an example. It is widely used in mobile phones and smart wearables. According to IDC data, in 2019, the shipment of smart phones was 370 million units and the smart wearable devices were nearly 100 million units. This shows the application volume of soft boards. Large, strong demand for testing. However, most manufacturers still rely on inspectors to manually check product quality. The main reason is that there are multiple parts such as substrates, components, films, chips, connectors, etc. on a flexible board. Many defects are not only complex and diverse, but also require very high detection accuracy, accuracy, and speed.
In order to solve the pain points of soft board inspection, "Deep Vision" has created an innovative imaging system to achieve full coverage of all defects. Combined with "Deep Vision" core AI visual inspection technology, it has solved the problem of difficult identification of defects; In order to achieve a faster detection speed, Deep Vision and Intel have carried out technical cooperation in terms of software and hardware, and the terminal controller built by it has achieved several times improvement in performance. In the end, "Shenzhen Technology" built a soft board inspection all-in-one machine in the form of "imaging system + terminal controller + intelligent visual inspection software", which has realized batch deployment and application.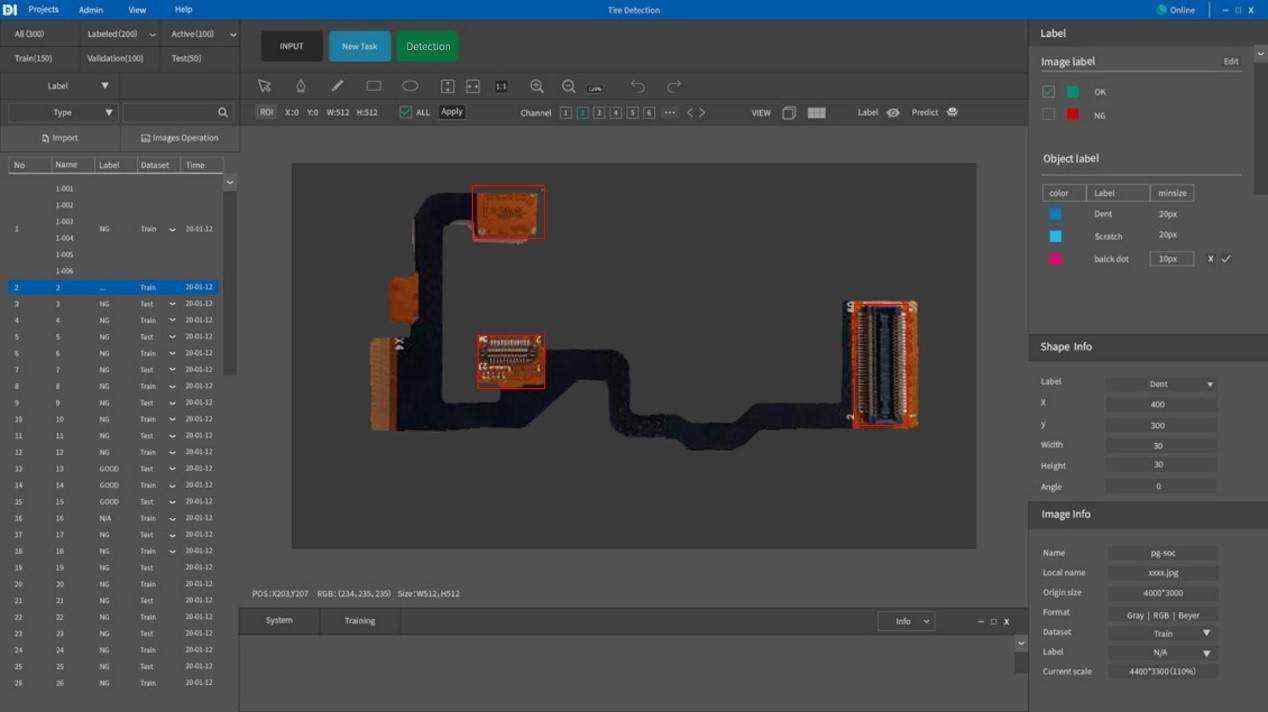 "Deep Inspect" positioning function display
The transformation and upgrading of manufacturing in China is imperative, and machine vision is a necessary means to realize industrial automation and intelligence. According to statistics from Markets and Markets, a foreign research organization, the global machine vision industry market has exceeded USD 8 billion in 2017, and is expected to reach USD 12.5 billion by 2020 and exceed USD 19.2 billion in 2025. From the perspective of the long-term potential market size, according to the AIA survey, only 5% of potential users currently use machine vision, that is, 95% of potential users need but have not yet used machine vision. After the full potential is played out, the world The market can reach 120 billion US dollars.

The market for industrial quality control, "deep as the technology" said Li Yang, founder and CEO, as deep as the forerunner of the AI industry, we are more concerned about customer value, continuous grinding products and solutions that deliver results beyond the expectations of customers, as The value brought by customers is the core indicator of Deep Vision, which is also the foundation for many Fortune 500 customers to trust us.
It is reported that, in response to the difficulty of defect detection, "Deep Vision Technology" has carried out innovative R&D and design in optical imaging on the one hand to solve the problems of subtle product defects and difficult identification, and realize the effective collection of image data for AI algorithm training. On the other hand, the industrial AI vision platform based on the core underlying engine of the Deep Vision team for ten years can complete the AI ​​algorithm training and detection of each type of defect more quickly and efficiently, so as to finally achieve the detection effect that exceeds the customer's expectations.
"Shenzhen Technology" is currently deployed in leading customers in multiple industries. In terms of business development planning, Li Yang said that 3C will be the key industry to penetrate , and quickly penetrate the industry with the greatest demand. On the other hand, he will continue to empower other industries, accelerate the pace of development, and make the company become A leading domestic and world-renowned provider of industrial AI vision products and solutions.
Li Rui, a partner of Shunwei Capital, said:
There are a large number of quality inspection scenarios in factories, and industrial quality inspection has a broad potential market space. AI has brought new variables to industrial quality inspection. Deep Vision's AI quality inspection products have achieved batch delivery to benchmark customers in 3C scenarios, with a solid team and strong execution.