The DF061 intelligent wall treatment robot is a construction cooperation mode based on the mobile Internet, which can replace 80%-95% of manual labor to complete the 0m-9m wall treatment construction work.
China's annual new construction area accounts for half of the world's total. From 2018 to 2030, the average annual new housing demand in China's urban areas is as high as 1.08 billion-13.4 billion square meters. It is estimated that in 2020, the total expenditure on home decoration in China will exceed 2.5 trillion yuan, of which wall treatment accounts for about 5%-8%. It is a huge market with a scale of 125-200 billion yuan, and this does not include industry, commerce, and logistics. Wall treatment of industrial plant building.
Looking at developed countries around the world, most of the wall treatment market adopts traditional manual treatment methods. However, the traditional method of manual wall painting is not only inefficient, faces labor shortages and high costs, but also poses hidden dangers to the safety of construction workers in dangerous environments. Take the United Kingdom as an example. The annual wall painting market is more than 4 billion pounds. Compared with 1970, the labor efficiency of wall painting has not increased, but has decreased by 0.5%. Therefore, the global market urgently needs a practical, reliable and fully automated manual replacement product for wall treatment.

At present, construction robots around the world are basically in the R&D and start-up stage, and have not been used for large-scale commercial use, and the robots used in building wall treatment are even rarer. However, as labor costs in the field of construction continue to increase, and issues such as construction safety and dust pollution have always been the sword of Damocles hanging over the heads of construction companies, the construction market has an increasing demand for intelligent construction and manual replacement. The market urgently needs intelligent construction robots that can achieve standardization, high precision, and adapt to the harsh environment of the construction site.
The DF061 intelligent wall treatment robot recently launched by "Dafang Intelligence" interviewed by 36Kr is a construction cooperation model based on mobile Internet, which can replace 80%-95% of manual construction of 0m-9m wall treatment operation.
The hardware iteration of "Dafang Smart" has made great progress in the past six months. A single machine is composed of 360 kg and 100% steel and aluminum parts 6 months ago. It has become a single machine with 180 kg and 25% of the parts using titanium alloy and Carbon fiber has achieved "weight loss success". The robot is equipped with "5G Internet + AIoM robot" technology, and cloud software services are installed in the robot hardware equipment, allowing customers to perform integrated control of parameter input, project management and process monitoring through a mobile app.
The product builds machine perception capabilities through 29 sensors, including 12 laser sensor controllers for adjusting the operation module and speed control; 10 photoelectric sensor sensor controllers to ensure the accuracy of the robot operation process and prevent the robot operation process The loss; 4 pressure sensor controllers ensure that standing and stretching freely; 2 visual feedback controllers control reasonable and moderate application of paint; 1 gyro balance sensor to ensure the stability of robot walking. At the same time, the robot also has a multi-dimensional motion system composed of 25 motors: 6 servo motors achieve a motion accuracy of 0.1 mm; a four-dimensional robotic arm composed of 6 stepper motors and reducers completes the construction requirements of 2 70 degrees in a 3-dimensional space ; 8 balance motors ensure balance and support when the construction height exceeds three meters.
In a real work scene with a large amount of ground deposits, the general construction work area will clear obstacles in advance. If deposits are found on the construction route, DF061 will give a real-time alarm and remind the operator to remove the ground deposits. Before applying DF061 for construction at this stage, surveyors will take pictures of the construction site and generate CAD scene diagrams of the construction site through the software. If there are drainage pipes, smoke detectors, power distribution boxes, doors and windows and other objects that need to avoid construction, they will be automatically identified Afterwards, a construction simulation animation is generated and handed over to the operator to review the construction route. DF061 is equipped with 3D imaging navigation. The construction route is generated on the basis of house CAD images by an independent patented wall processing algorithm, and then DF061 is downloaded and executed from the cloud to realize autonomous navigation. During the implementation process, obstacle avoidance is based on real-time adjustment of laser and microwave sensors. In the future, SLAM panoramic construction navigation will be gradually realized.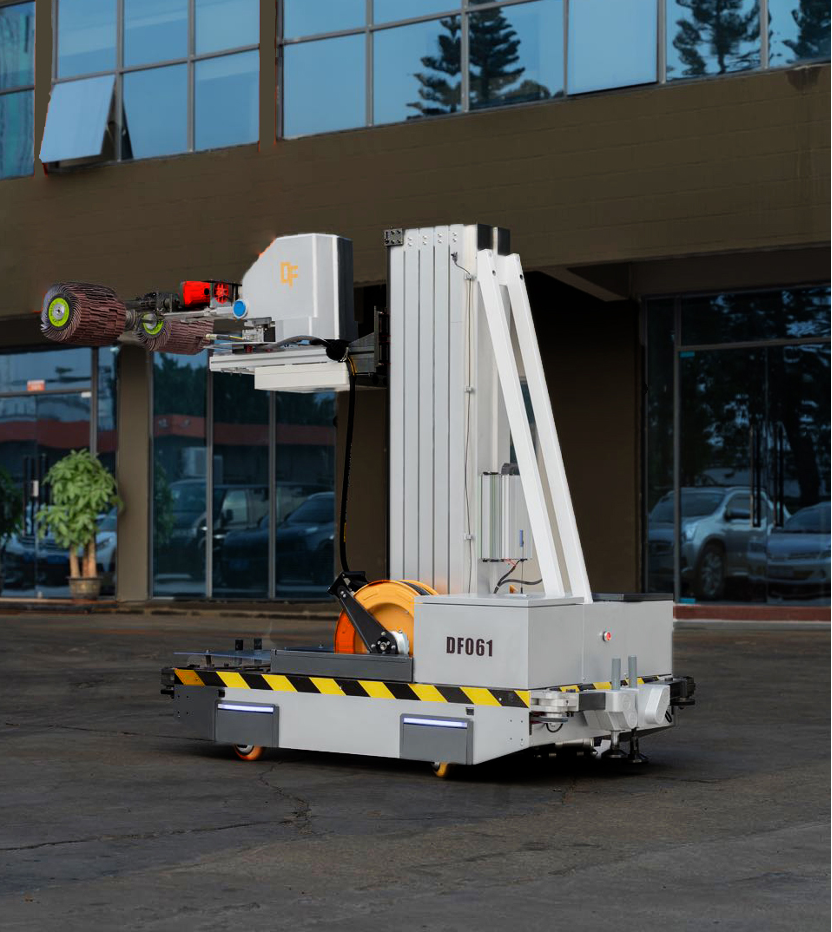 DF061 Intelligent Wall Processing Robot Picture
Compared with traditional manual operations, the use of generous and intelligent robot operations can greatly reduce costs and increase efficiency. Specifically, if we take Shenzhen wall treatment and construction as an example, the daily salary of painters is about 400-500 RMB, and it takes 10 people 15 days to finish and paint a wall with an area of ​​about 5000 square meters, not including processing walls over 3 meters. The cost of scaffolding and material loss is required for the surface. According to research articles published in international journals, if wall processing robots are used, the construction efficiency should be increased by at least 60% and a certain percentage of material loss should be saved.
36 Krypton learned that from the construction practice data of the "Dafang Intelligent" DF061 intelligent wall treatment robot for nearly half a year, under the same construction effect, the overall efficiency of the robot to complete the wall treatment is 3-4 times higher than that of manual work. Save 50%-70% labor cost and 15% material cost. DF061 is used to polish and paint 5000 square meters of wall surface, which can be completed by one machine in 2 days, which can improve construction efficiency and improve construction safety.
In terms of team development, the R&D focus of the core R&D team of "Dafang Smart" has undergone iterations and upgrades from 1.0 to 3.0. In the 1.0 era, relying on the technical talents of hardware design in the team and the manufacturing advantages of Dongguan area, the robot performance matching and basic assembly were realized; in the 2.0 era, the optimized configuration of hardware in the supply chain was completed by matching suitable and mature suppliers in the market; Up to now, the founder and core R&D team continue to polish the product, and the algorithm optimization of the software system has been tested and debugged in practice.
Promote the use of point of view, "generous and intelligent" tell krypton 36, DF061 intelligent robot wall treatment has been completed in the Pearl River Delta region, including Shenzhen Convention and Exhibition Center underground garage more polished construction practice, including spraying, and has received from the airport hangar , Intentional orders from customers in areas such as wineries and factories will focus on the construction of the interior and exterior walls of the factory buildings of 6 meters and above. According to the residential indoor spraying demand on the market, the DF041 intelligent wall robot for 3-4 meters operation will also be developed. In the future, we will continue to provide services for partners in the Pearl River Delta, develop partners in the Yangtze River Delta around Shanghai, and provide training for surveying and mapping engineers and machine operators for Beijing-Tianjin-Hebei partners with Beijing as the core. At present, the generous R&D personnel of the DF061 intelligent wall treatment robot provide on-site assistance during the operation, and timely find the problems in the construction to debug and optimize the algorithm, making the robot increasingly perfect. In the verification with the customers that have cooperated, the algorithm optimization and model debugging in the software system have been used to solve the problems of uneven spraying, uneven movement caused by uneven ground, and delay of nozzles and lifting rods.
"Dafang Intelligence" told 36Kr that the founder Deng Yu is a serial entrepreneur with deep software and hardware development experience and a deep understanding of marketing methods. It is expected that the planned business model is to recruit regional agents to achieve revenue growth through equipment leasing and project contracting and sharing. It will continue to rely on the advantages of China's manufacturing industry to launch new models with multiple functions and applications in the next 3-5 years Robots are used to replace manual work in the field of building decoration.
In the field of building decoration, wall treatment is one of the largest parts. In addition to the construction area of ​​about tens of billions of square meters per year in my country, the completed buildings in use also need to repaint the interior and exterior walls. Therefore, A considerable part of the nation's annual labor force of more than 50 million construction industry is engaged in wall treatment. At present, the companies involved in building wall treatment include Bo Zhilin and Transforma Robotics, but the products have not yet been promoted on a large scale. In addition, some large domestic real estate developers will also invest heavily in the development of wall spray robots based on their own needs. However, because the prototypes produced are only for the operating environment and operating requirements of their own buildings, the products are not marketable.
Construction sites are full of many uncontrollable factors and have complex and harsh environment characteristics such as a lot of dust and high humidity. In the future, intelligent construction robots want to overcome these difficulties and there is still a long way to go for large-scale application in the construction industry. Faced with strong market upgrade demands and technological breakthroughs in industries such as artificial intelligence and cloud computing big data, self-propelled robot product technology will continue to change, which will become a good opportunity for the construction industry to upgrade digital and intelligent.