Smart manufacturing is not a far-reaching imagination, the digital factory has already arrived. Who brought this change, and where will it go?
China's manufacturing industry is in the throes of transformation.
Over the past 40 years of reform and opening up, China's economy has experienced sustained and rapid growth. The fundamental reason behind it is that it initially established a set of manufacturing development strategies that fit my country's national conditions, and thus became a veritable "world factory".
Nowadays, China's manufacturing industry is facing multiple challenges. With the changes in the population structure, the labor cost advantage that has been relied on for development has been gradually lost, causing labor-intensive manufacturing to flow to Southeast Asia and other countries.
At the same time, a new round of industrial revolution has been set off worldwide, and some major advanced manufacturing countries have introduced national strategies for manufacturing, such as German Industry 4.0 and the US Industrial Internet.
In this context, whether it is from the national strategy or the enterprise's own survival and development needs, the transformation and upgrading of the manufacturing industry cannot be delayed.
01
Misunderstandings and Challenges of Intelligent Manufacturing
The ultimate goal of intelligent manufacturing is to integrate industrial systems with information systems, and to promote further improvements in industrial efficiency and production capacity through a data-driven approach.
Judging from the demand for reforms of more than 350,000¹ manufacturing enterprises in China, China's smart manufacturing is a blue ocean market with great potential.
During the period, foreign companies such as Hitachi have also been attracted to participate in the transformation and upgrading of China's manufacturing industry, providing Chinese companies with valuable experience and advanced technology and equipment.
Of course, the complexity of the manufacturing industry is destined to be extremely long, and intelligent transformation is not an easy task.
In fact, there is an obvious misunderstanding in the current manufacturing industry, thinking that as long as the smart manufacturing solution is randomly applied to the traditional factory, the transformation and upgrading will be completed.
At the same time, many smart manufacturing solution providers lack industry experience and lack sufficient understanding of their customers' business, and the upgrade effect is not ideal.
It should be understood that the pain points and difficulties of intelligent manufacturing transformation and upgrading for any industry or company are different, so they will vary from industry to company.
In this process, a greater challenge is the increasing demand for large-scale personalized customization. With economic development, the market has gradually shifted from a seller's market to a buyer-led market.
This small-quantity personalized customization model is becoming more and more popular, and customers have more diversified requirements for product customization.
Looking at the entire manufacturing industry, any factory definitely likes mass production at one time, and the high-frequency and large-scale personalized customization mode is often difficult to control in terms of cost, quality and efficiency.
This undoubtedly brings a huge challenge to the traditional mass production model. All manufacturing industries face huge pains, either upgrading on demand or waiting to be ruthlessly eliminated.
02How
to build a "factory of the future"?
Thus, flexible manufacturing has entered the stage of history.

With a flexible production model, manufacturing companies can better grasp the complex and changeable market, which means that traditional factories must carry out in-depth transformation of their own production links.
Traditional manufacturing is a rigid manufacturing assembly line, that is, through a high degree of standardization of production equipment and manufacturing processes, the assembly line system can achieve mass production of a single product while maintaining quality.
The problem with rigid manufacturing is that manufacturing companies actually bear most of the pre-investigation, huge development costs, and market prediction risks.
In contrast to rigid manufacturing, flexible manufacturing is a new manufacturing model that is created to meet the needs of customization. It can be manufactured and scheduled flexibly, and manufacturing companies can realize instant feedback on the customization needs of users.
With the advancement of industrial technology and information technology, the vision of the smart factory will eventually shine into reality. A typical feature of smart factories is flexible manufacturing, where factories are more flexible, more efficient, and lower in cost.
For example, Okuma Co., Ltd., a comprehensive machine tool manufacturer with a long history of about 120 years, has previously built such a flexible manufacturing factory "Dream Site2" to produce a variety of small and medium-sized lathes and grinding machines.
The factory has applied a large number of technologies such as the Internet of Things, big data, and artificial intelligence to realize flexible manufacturing of extremely complex machine tools and grinders, becoming a typical example of smart factory construction.
For CNC machine tools, it is particularly difficult to achieve large-scale personalized customization. It is necessary to know that machine tool manufacturing often requires processing, assembling and manufacturing thousands of parts.
In order to achieve this goal, Japan's Okuma and Hitachi have carried out collaborative innovation, which is to ingeniously combine Hitachi's software and hardware technology advantages with its own manufacturing experience.
The solution is that "Dream Site2" uses robots and FMS (flexible manufacturing system) to effectively improve production efficiency.
At the same time, in terms of speeding up the shop floor control cycle and promoting production visualization that promotes overall optimization, an IoT environment using technologies such as RFID (wireless IC tag) established by Hitachi Manufacturing Co., Ltd., Owon Business Office.
This technology can collect and use 3M information of operators (Man), equipment (Machine), and materials/parts (Material) in real time, successfully cutting the development cycle of representative products by half.
The fundamental reason for the substantial increase in production efficiency is that Hitachi has effectively integrated the technology and experience of OT (Operational Technology) and IT (Information Technology).
In addition, "Dream Site2" also uses Hitachi's IoT platform "Lumada"'s production plan optimization solution.
The result of this is that the flexible manufacturing "Dream Site2" can further shorten the development cycle while being more flexible to respond to emergency plan adjustments.
At the same time, another typical feature of smart factories is the predictability of equipment status. It should be known that in traditional factories, the frequency of equipment failures is more difficult to predict than people think. Usually, a single equipment failure may cause the entire production line. The economic loss caused by downtime is even immeasurable.
The smart factory turns the passive maintenance method in the past, that is, maintenance only when the equipment fails, into preventive maintenance in advance.
Mainly by constructing a set of data models that can effectively determine the operating conditions of equipment, predict different types of failures, prevent problems before they occur, and effectively reduce the losses caused by equipment failures, so as to realize the 24-hour non-stop of the factory.
The key behind this is that there are high requirements for factory data collection and the interconnection of factory equipment. It is necessary to use a variety of sensors to perform big data analysis and modeling on mobile data.
But this is also a skill especially lacking in traditional enterprises. Hitachi also helped Curadian Electronics Co., Ltd. in Wuxi, Jiangsu build such a smart factory.
Wuxi Curadian Electronics is the world's major MLCC (chip ceramic capacitor) manufacturer, and its output accounts for about 15% of the global market share.
When electric vehicles, mobile phones and other industries usher in a major explosion, this also requires Wuxi Cundian Electronics to upgrade its production capacity to meet the large-scale demand of the market.
However, compared to the advance prediction of the state of machinery and equipment, the capabilities of this smart factory are more than that.
For example, from the perspective of cost and spare parts management optimization, Wuxi Cundian Electronics' smart factory has also achieved a true understanding of the operating status of production equipment.
In the future, various factories will be opened up to achieve coordinated development. Through a network cable and a platform, the overall management of multiple factories will be realized, and it will become a true "factory of the future".
In fact, such cases are not rare in China. Taking the cooperation between Hitachi and China Resources Sanjiu Pharmaceutical Co., Ltd. (hereinafter referred to as China Resources Sanjiu) as an example, it profoundly explains the importance of collaborative innovation in the intelligent upgrading of manufacturing.
As early as 2015, the cream workshop of China Resources Sanjiu Guanlan production base began to cooperate with Hitachi to enhance the core competitiveness and industry advantages of the company by introducing MES.
In the process of collaborative innovation, from the beginning of data collection and business inspection, the Hitachi team went deep into the production site to understand various processes. In the process, the two parties overcame numerous difficulties, and it took up to two years.
In October 2017, the system introduction and acceptance was completed. The MES system of the cream workshop of China Resources Sanjiu Guanlan Base passed GMP certification and became a pharmaceutical production workshop using electronic batch production records throughout the process.
At that time, such a whole-shop electronic batch record pharmaceutical production workshop was one of the few in China. Through collaborative innovation, China Resources Sanjiu realized the intelligent manufacturing of pharmaceutical production and pioneered the industry trend.
In October 2018, the cream workshop of China Resources Sanjiu Guanlan Base also implemented other information systems such as ERP (Enterprise Resource Planning), WMS (Warehouse Management System), QMS (Quality Management System) and DMS (Document Management System) with Hitachi. Fully integrated.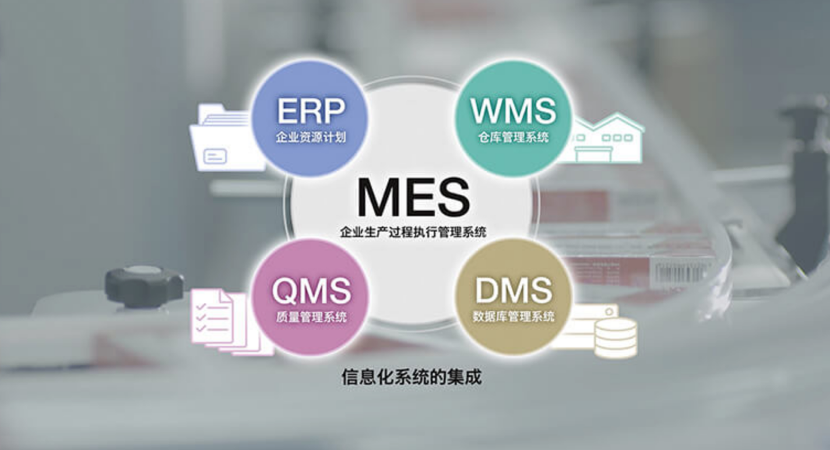 In the follow-up, Hitachi also participated in the implementation of the integration with the data acquisition monitoring system (SCADA) and equipment control system, which improved the timeliness of equipment data recording.
In May 2020, China Resources Sanjiu Guanlan Base was therefore awarded the "2020 China Benchmark Smart Factory", which is the industry's authoritative recognition of the level of China Resources Sanjiu's intelligent manufacturing.
Collaborative innovation, intelligent manufacturing. During this series of processes, it can be seen that Hitachi is not only a solution provider, but also a co-creator throughout. Through the unremitting efforts of both parties, it has helped China Resources Sanjiu Guanlan Factory achieve a magnificent transformation.
Of course, this is only the first step. As time goes by, I believe that the road of collaborative innovation between Hitachi and China Resources Sanjiu will go further and further.
The recently launched 2020 Shanghai International Import Expo is an important platform for global foreign companies to show their open and innovative ideas.
Hitachi, who has participated in the conference for three consecutive sessions, once again brought its innovative technologies and equipment in the fields of smart manufacturing, healthcare, and smart cities, which brought many surprises and inspirations to the participants.
03
Hitachi social innovation to make the world full of vitality
Smart manufacturing is not a far-reaching imagination, the digital factory has already arrived. Who brought this change, and where will it go?

It can be expected that Hitachi will create successful cases of smart factories through collaborative innovation, which will give more companies more reference and inspiration in the future.
The experience of these leaders can be a beacon for other companies and provide more professional guidelines for breakthrough upgrades, thereby promoting the systematic optimization of production in the Chinese manufacturing industry.
In this process, social innovation is of utmost importance. People want to live in a more comfortable, safe and healthy society. With this vision, Hitachi strives to solve the various problems faced by society and realize the "beauty" that people yearn for. This is the "social innovation" created by Hitachi and many partners.
And how to make the world full of vitality, Hitachi will gather global wisdom and creativity to realize an environmentally friendly society, enhance customers' corporate value and improve people's QoL (Quality of Life). This will not only solve the current problems, but also become the driving force to revitalize the future.