Huawei: In order to continue the glory channel
The boots finally landed.

On November 17, according to the "Shenzhen Special Zone News", a number of companies issued a joint statement. Shenzhen Zhixin New Information Technology Co., Ltd. has signed an acquisition agreement with Huawei Investment Holdings Co., Ltd. to complete the comprehensive acquisition of the business assets related to the Honor brand. After the sale, Huawei no longer holds any shares in the new glory company.
The statement pointed out that the acquisition is not only a self-help and market-oriented investment initiated by the glory-related industry chain, it can maximize the protection of the interests of consumers, channels, suppliers, partners and employees; it is also an industry complementarity. All shareholders will Fully support New Glory, so that New Glory can draw on the advantages of all parties in terms of resources, brand, production, channels and services, and participate in market competition more efficiently.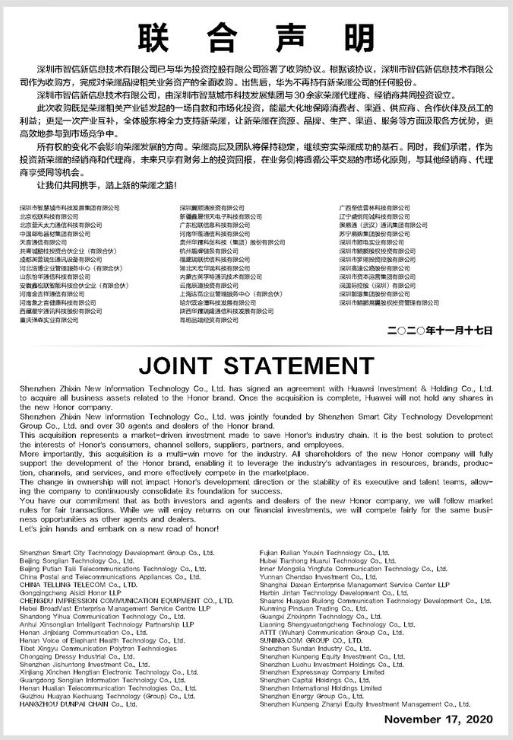 Joint Statement Picture source: "Shenzhen Special Zone News"
Previously, 36 Krypton had exclusively reported that Huawei plans to package and sell the Honor mobile phone business at a price of 100 billion yuan. The deal is expected to be announced this Sunday as soon as possible.

According to public information, Shenzhen Zhixin New Information Technology Co., Ltd. was established on September 27, 2020. It was jointly invested and established by Shenzhen Smart City Technology Development Group and more than 30 glory agents and distributors, including Tianyin Communication Co., Ltd. , Suning Tesco Group Co., Ltd., etc. Business projects include development, production, sales: communications and electronic products, computers, etc., with a registered capital of 100 million yuan.
In addition, Huawei also issued a statement stating that at a difficult time when industrial technology elements are unsustainable and consumer business is under tremendous pressure, in order to allow the continuation of Honor channels and suppliers, Huawei Investment Holding Co., Ltd. decided to sell Honor business assets as a whole and acquire The party is Shenzhen Zhixin New Information Technology Co., Ltd. As for the glory after the delivery, Huawei does not own any shares, nor does it participate in management and decision-making.
Honor is a brand established by Huawei in 2013. In April this year, the Honor brand became independent from Huawei's system and became a wholly-owned subsidiary of Huawei. Due to chip constraints, Huawei's mobile phone market is gradually shrinking. According to data released by Canalys, mobile phone shipments were 51.7 million units in the third quarter of this year, down 23% year-on-year.
However, the current Huawei chip dilemma is being resolved. On the 15th, Qualcomm announced that it has been approved to supply 4G chips to Huawei. In addition, chip manufacturers such as Intel and AMD also said they have obtained Huawei's supply license.