CalmCar announced that it has completed a 100 million yuan Series B financing led by CICFH. This round of SAIC Hengxu and SAIC California Ventures continues to increase their capital.
BLESSING as Granville (CalmCar) (hereinafter referred to as "CalmCar") announced the vote was completed in the Central fiscal stone dragon's capital in September, Hong Kong's source of capital one hundred million yuan B1 round of financing co-lead investor, this SAIC Hengxu and SAIC California Ventures continued to increase their capital, and funds such as Shihu Fund and Huacheng Venture Capital followed suit. This round of financing will be used to expand the scale of high- and low-speed intelligent driving system software and hardware mass production, product research and development, the establishment of the East China R&D center, and the large-scale expansion of the Shenzhen aftermarket division.
On November 9, the Passenger Car Market Information Joint Conference released the latest data showing that the retail sales of the passenger car market in October was 1.992 million units, an increase of 8% year-on-year, achieving a high growth rate of about 8% for four consecutive months in the past two years speed. In terms of new energy vehicles, wholesale sales in October exceeded 144,000 units, a year-on-year increase of 119.8% and a month-on-month increase of 15.9%. The continuous expansion of the passenger vehicle market and the growth of the new energy vehicle market are conducive to stimulating the development of China's automobile-related industry chain, and it also brings opportunities to hardware and software manufacturers surrounding the smart travel industry chain.
CalmCar interviewed by 36Kr is a manufacturer of software and hardware systems focusing on intelligent driving related technologies. "Tiantong Weishi" was established in 2016. Its main products surround visual perception, driver behavior analysis, parking and DSSAD systems, serving OEM and Tier1 L2+ to L4 intelligent driving mass production platforms.
CalmCar told 36氪, "The forward and weekly perception system is a multi-camera fusion perception solution that helps the smart card to achieve L4 intelligent driving in the port area. It can currently achieve intelligent driving, centimeter-level positioning, precise parking, Interaction with automated port machinery equipment and other functions. At the same time, it has cooperated with many commercial vehicle parts suppliers to mass-produce ADAS. In the field of passenger vehicles, it has cooperated with many OEMs and Tier1 to develop 5RNV solutions to meet high-speed and urban intelligent driving Functional requirements, currently serving 6 mass production projects."
In addition, CalmCar's products also include an autonomous parking system. Based on a vehicle-level mass production platform, it can provide key components of autonomous parking and valet parking, and overall solutions based on customer needs. . CalmCar's self-developed Date Storage System for Autonomous Driving Vehicle (DSSAD) has provided products to many international Tier1, domestic OEMs and third-party testing agencies to support road testing and demonstration operations of smart driving vehicles. At present, the mandatory national standard of DSSAD is being established, and Calmcar will work with national standard participating units to jointly develop the "black box".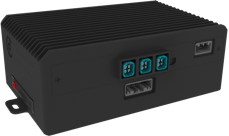 Smart driving recorder DSSAD
36 Krypton learned that "Tiantong Zhixing" is a subsidiary of Calm Car . Its after-installation commercial vehicle and operating vehicle supervision system is dedicated to providing customers with algorithm licenses, core boards and complete solutions. At present, it has in-depth cooperation with upstream head chip manufacturers to complete algorithm migration on the full range of chips for Android and Linux systems, and complete development and mass production on various mainstream solution platforms such as CPU, NPU, and GPU. The advantages of online car/taxi, bus, freight vehicle and two-passenger-one-risk equipment are small memory usage and strong integration. It has reached long-term cooperation with major operating companies and has shipped more than 200,000 sets. "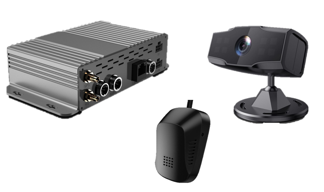 Intelligent networked early warning equipment
In 2021, the autonomous parking system of "Tiantong Weishi" will be mass-produced on 9 independent brand passenger cars and passenger car platforms of foreign mainstream brands; the data recording system for autonomous vehicles is expected to be 2021 The annual installed capacity reaches 10,000, and dozens of models are adapted.
The realization of ADAS technology depends on AI component manufacturers and traditional vehicle manufacturers to play their respective advantages, in-depth interaction and cooperation and division of labor in the core links of the industrial chain. There are hundreds of ADAS technology startup companies in China, such as Minieye, Jimu Intelligent , MAXIEYE, Yihang Intelligent, etc.