that " Yunyang Data " , an integrated operation service provider for smart agriculture, recently announced the completion of a Pre-A round of financing for tens of millions of people. The investor is Jiazi Qihang and other institutions, and the main funds are used for research and development and building a sales team.
"Yunyang Data" is a service provider of smart agricultural products and solutions for facility planting in agricultural planting. Since its establishment, it has used advanced technologies such as the Internet of Things, artificial intelligence, and big data to transform traditional agriculture, and deeply integrate AIoT technology with agricultural production technology to help customers achieve cost reduction, efficiency improvement, quality increase and income.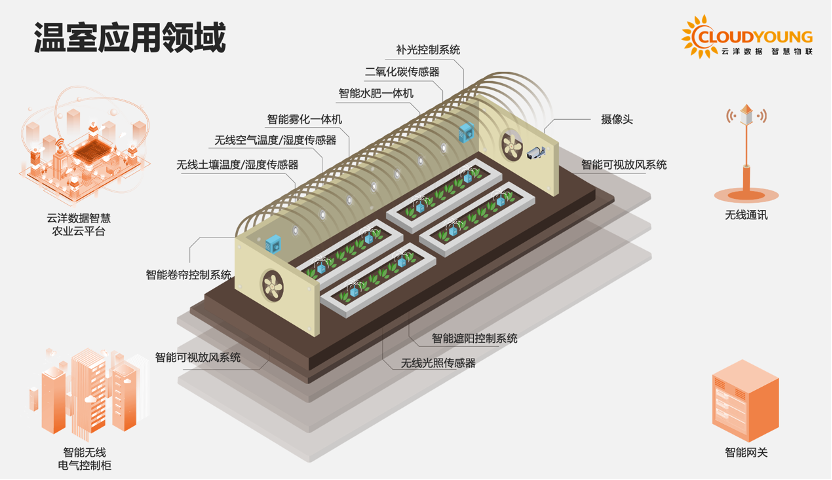 Greenhouse application field of "Yunyang Data"
Specifically, the product system of "Yunyang Data" can be divided into hardware and software systems. The hardware system includes intelligent perception system and intelligent control system. The intelligent perception system can realize real-time monitoring of air, soil, light and insect conditions; the intelligent control system can replace manpower to realize mechanized intelligent ventilation, atomization, fertilization, sunshade, rolling door operation, etc. The software system provides Internet of Things management, smart planting management, traceability management and big data management based on the cloud platform through the PC and app terminals.
The core competitiveness of "Yunyang Data" lies in its "planting model". In the early days of its establishment, Yunyang Data started from practice and looked for cases with good actual planting effects. The planting process of excellent cases was input into the model library through the Internet of Things, and the planting model was developed through cooperation with agricultural experts from the Academy of Agricultural Sciences and other institutions. Optimize and conduct experimental tests in the experimental base to establish the "optimal planting model".
At present, the service process of "Yunyang Data" can be summarized as: data perception through intelligent hardware, uploading planting environment, soil environment, light, growth, disease and insect pests and other data to the cloud platform. The data is deposited on the platform and matched with the optimal "planting model" in the intelligent analysis system through deep learning. Then implement instructions to the intelligent operating system to realize temperature control, intelligent light supplementation, intelligent watering and fertilizer supplementation and spraying, and complete the automation of the planting process.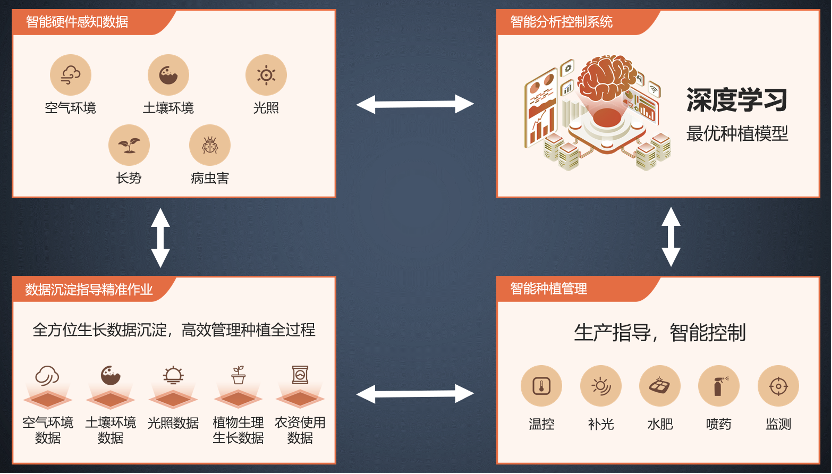 "Yunyang Data" AIoT Crop Solution
It is reported that taking an initial investment of RMB 1.5 million in a greenhouse covering an area of ​​10,000 square meters as an example, the purchase of a complete set of Internet of Things equipment requires 100,000 to 150,000, accounting for 5-10% of the total investment, and the labor cost can be saved. The accumulated value is 50,000 yuan, and the value-added income obtained by increasing output is about 100,000 yuan. Through intensive and intelligent fertilization and pesticide application, planting costs can be saved by 50,000 yuan. According to this calculation, with this crop solution, the initial equipment investment cost can be recovered after one year of operation. It not only greatly liberates manpower and improves efficiency, but also improves the quality of crops.
The core team members of " Yunyang Data" all have a solid background in software and hardware, agronomy, and market management. Founder and CEO Zhao Hongqi is an EMBA from Guanghua College of Peking University. He was a senior engineer at Huawei and has decades of work experience in the field of cloud computing and big data. The core team consists of doctors in agriculture, algorithm experts, and agricultural experts.
In 2014, the concept of "smart agriculture" was proposed. Smart agriculture is the use of modern computer technology and Internet means and platforms to quantitatively simulate, process and make decisions to realize the intelligence, digitization and informationization of the whole process of crop production, production, supply and marketing. It is the main direction of my country's future agricultural development.

According to Tou Leopard's research statistics, the scale of the smart agriculture industry is expected to continue to expand to 133.19 billion yuan in 2023. Among the four major applications of smart agricultural production, data platform services are the most widely used, accounting for 41.50%. UAV plant protection ranks second, accounting for 34.35%. At present, there are many startup companies in smart agriculture that cut in from different subdivisions. For example, to fly anti-cuts of plant protection Mai Feike technology , farmland housekeeper; to agricultural autopilot and Telematics data service cut into large Borch linkage , and data services platform cut into the number of river science and technology and so on.
In the face of fierce market competition, the current round of financing from "Yunyang Data" will be used to optimize the R&D team and consolidate the market team, continue to increase investment in R&D to build a stronger moat; establish its own professional sales team to strengthen Expand the market to achieve a healthy profit model.
"Yunyang Data" has launched a new round of financing plan. The funds will mainly be used to establish county-level planting model operating system experimental bases, build county-level digital agriculture demonstration projects, and build informatization and data-based agricultural ecology; and use county-level demonstration bases As a basis, gradually explore the supply of high-quality agricultural products.
CEO Hongqi Zhao revealed to us that in the future, we will continue to expand our business and enhance our patent research and development capabilities, and strive to enter the capital market as soon as possible.